Meizu unveils the Meizu 15 and Meizu 15 Lite, partners with Google to release new Android Go phone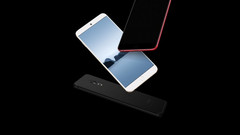 Meizu, a while ago, launched its new 15-series devices. The devices offer fine hardware while sticking with some of the traditional features of Android phones—16:9 display, 3.5mm headphone jack, and no notch.
Meizu has launched the Meizu 15 and 15 Lite. The devices are in commemoration of the company's 15th year of existence, and offer a cheaper package than the 15 Plus flagship they were launched alongside.
Here's a rundown of what the Meizu 15 has to offer:
5.46-inch FHD AMOLED display
Snapdragon 660
4 GB of RAM, 64 GB or 128 GB of storage
Sony IMX380 12 MP + Sony IMX350 20 MP dual rear camera setup
20 MP selfie camera, f/2.0 aperture
3000 mAh battery
3.5mm headphone jack
24W fast charging, USB Type-C
And for the Meizu 15 Lite:
5.46-inch FHD LCD display
12 MP rear camera, f/1.9 aperture
20 MP selfie camera, f/2.0 aperture
3000 mAh battery
18W fast charging, USB Type-C
The Meizu 15 with 64 GB of storage comes with a US$400 price tag, while the one with 128 GB costs about US$445.
Meanwhile, the company is also working with Google on the production of an Android Go phone. Google's new Android Go is aimed at equipping entry-level devices with a streamlined, light version of stock Android Oreo. Meizu devices are notorious for their disagreeable software, so this potential phone comes as a pleasant surprise.