Maximise Windows PC worktime with these 4 free must-have utilities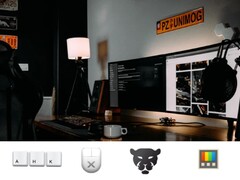 The choices and comments made on this list belong solely to the author.
1. Microsoft PowerToys
Microsoft PowerToys has a whole host of features that allow you to customise your Windows experience to the nth degree. From a fully configurable window management tool to mouse and keyboard shortcut remapping tools, PowerToys has almost everything you might need to make Windows your own. Some standout features of the suite allow you to pin app windows to the foreground, batch-rename files in file explorer, and universally mute camera and microphone inputs.
PowerToys can be found on GitHub, where Microsoft also regularly updates the suite to add features and fix problems. Microsoft also maintains a user guide to PowerToys on its own site.
2. Pantherbar
Pantherbar is a Windows Store app that adds another context menu separate from the regular Windows right-click affair. It can be summoned with a dedicated keyboard shortcut or by performing certain actions like highlighting text. Pantherbar features a visual, icon-based UI that can be extended and customised by adding and removing extensions.
The free version only allows enabling two paste actions and two user extensions on top of what is already included. For US$4.99 you get access to unlimited extensions and a few other useful features like dark mode, if you're particular about consistency on your PC.

Take your on-the-go productivity to the next level with this NexiGo 17.3-inch 144 Hz portable monitor that is available on Amazon
3. AutoHotkey
AutoHotkey is very much a tool designed for advanced users. It works based on scripts run by entering certain keystrokes. These scripts can do anything from quickly showing or hiding files in file explorer to automating multi-step operations in specific programs. Got a specific modifier you like to run in blender, or an equation in Excel that takes a while to type out? Automate that bad boy and make your life easier. AutoHotkey even allows you to replace text when it detects a certain phrase, so you can turn that lazy "brb" into "be right back."
While there is a steep learning curve, there are plenty of guides available and even pre-made scripts from community members to try out. It is worth learning if you have the time, since it is a seriously powerful piece of kit.
4. Microsoft Garage Mouse without Borders
Microsoft Garage projects are projects that Microsoft employees design and create in their down time. Mouse without Borders is one such project. It allows you to emulate some of the functionality of a KVM switch without actually having the hardware. Basically, it allows you to use one mouse across multiple computers on the same network. It even goes as far as clipboard sharing, allowing you to drag and drop files and text between connected computers seamlessly. Mouse without Borders can be downloaded from this Microsoft Garage page.
A popular use-case for Mouse without Borders is if you have a laptop and desktop on the same desk and don't feel like switching input methods every time you want to move between tasks on the separate systems.
My interest in tech started in high school, rooting and flashing my Motorola Defy, but I really fell down the rabbit hole when I realised I could overclock the i7 930 in my Gigabyte pre-built PC. This tinkering addiction eventually lead me to study product design in university. I think tech should improve the lives of the people using it, no matter the field. I like to read and write about laptops, smartphones, software and trends in technology.