CES 2019 | Lenovo's Smart Tab M10 comes with Smart Dock and Amazon Alexa to make your home smarter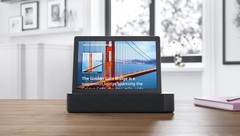 Lenovo's new Smart Tab M10 tablet with Smart Dock has been revealed. The 10.1-inch tablet comes with a Smart Dock and Amazon Alexa to beef up its potential usage scenarios. Users can easily integrate the device from the Chinese manufacturer into their smart home and use it to help with day-to-day tasks around the house or simply enjoy its Smart Screen ability.
Along with the more-expensive and higher-specced Smart Tab P10, Lenovo has also announced the Smart Tab M10. Like the P10 tablet, the M10 comes with a handy Smart Dock that helps turn the slate into a hands-free utility or leisure device. Owners can play games or watch movies on the tablet, or they can insert the device into its dock to trigger Show Mode.
The M10 tablet features a Snapdragon 450 processor, and it comes with up to 3 GB RAM and 32 GB ROM. The device has a 4850 mAh battery (the P10 offers 7000 mAh battery capacity) and has front and rear-facing cameras. The display of the M10 has an advertised brightness of 320 nits and a 1920x1200 resolution.
Users can enjoy sound from the M10's dual front speakers or from the Smart Dock's dual 3 W speakers. With Amazon's virtual assistant Alexa integrated into the device, the Smart Tab M10 can offer numerous applications around a typical smart home, such as setting timers, changing the temperature, and helping to discover new meals to try.
The Lenovo Smart Tab M10 tablet with Smart Dock is expected to be available from the end of January (in Germany) and will cost €199. For those who like the concept and are willing to shed a bit more cash, the P10 model offers more RAM, more storage space, a brighter panel, four front speakers, higher-specced cameras, a hall sensor, a fingerprint sensor, and a much bigger batter capacity – all for an extra €100.