IFA 2018 | Lenovo Yoga Book C930 uses a 1080p E-ink touchscreen for a keyboard because why not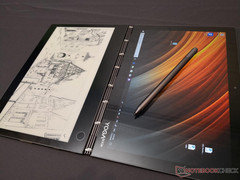 Why use a boring ol' physical keyboard when you can use a 1080p E-ink touchscreen instead? The second generation Yoga Book is as unique as a netbook can get with its combination of a primary 10.8-inch 1600p IPS display and a secondary 10.8-inch 1080p E-ink display for a launch price of $999 USD.
It's been two years since the experimental Star Trek-inspired 10.1-inch Yoga Book and its unique full-size touchscreen keyboard. Lenovo has since been silent on a proper successor, but we can now expect the second generation Yoga Book to launch this year with an even bigger and crazier touchscreen keyboard.
Called the Yoga Book C930, the convertible ups the ante with a primary 10.8-inch 2560 x 1600 IPS touchscreen and a secondary 10.8-inch 1920 x 1080 E-ink touchscreen in place of the traditional keyboard. Imagine connecting together an Amazon Kindle e-Reader to a regular Windows tablet by a hinge and it will give you a good idea of what the Yoga Book C930 is all about.
The move to a haptic virtual E-ink keyboard instead of a tradition tactile keyboard allows for more versatile options not found on any other laptop. The E-ink keyboard can switch between different pre-set layouts and languages and its display can also be used to open PDF pages or e-Books for outdoor or bedroom reading. Special note-taking apps replace the awkward pen-and-paper approach on the original Yoga Book.
There are a few disadvantages to keep in mind. First, the passively-cooled Core m3 or i5 CPU must power both the primary 1600p IPS touchscreen and the secondary 1080p E-ink touchscreen at all times. The extra processing strain can be felt when changing settings on the E-ink screen as frame rates and responsiveness are both choppy and far from smooth. We're hopeful that the eventual retail SKUs will address some of these issues exhibited by these pre-production models on show.
Our table below summarizes the core differences between the 2016 Yoga Book and the upcoming 2018 Yoga Book C930. Expect the latest model to launch for $999 by this October. The system should not be confused with the Yoga C930.
2016 Yoga Book
2018 Yoga Book C930
Displays
10.1-inch 1920 x 1080 IPS touchscreen
10.8-inch 2560 x 1600 IPS touchscreen
10.8-inch 1920 x 1080 E-ink touchscreen
CPU
Atom x5-Z8550

Core i5-7Y54
Core m3-7Y30

GPU
HD Graphics 400 (Braswell)
HD Graphics 615
RAM
4 GB LPDDR3
4 GB LPDDR3
Battery
32 Wh
35.8 Wh (8.6 hr advertised)
Audio
Stereo
Stereo Dolby Atmos
Wireless
802.11ac dual-band
802.11ac dual-band
Dimensions
256.6 x 170.8 x 9.6 mm
260.4 x 179.4 x 9.9 mm
Connectivity
Micro-USB, Micro-HDMI
2x USB Type-C Gen 1
MSRP
Currently $549 at retail
$999