Lenovo ThinkPad T14 & X13: T490 & X390 successors adhere to new naming scheme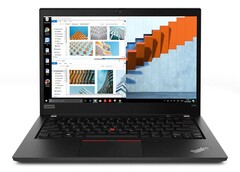 The mystery of the new Lenovo ThinkPad naming scheme is solved: The ThinkPad laptops of the T and X series adopt the new, simplified naming system that Lenovo has already previewed with some of the budget ThinkPads. The upcoming models ThinkPad T14 and ThinkPad X13 are listed on Lenovo's website for the first – but there are no pictures or specifications yet.
The the recent ThinkPad laptops like the ThinkPad T490 or ThinkPad X390, Lenovo has reached the limit of the established ThinkPad naming scheme. After ten years, the old naming system that was introduced with the ThinkPad X300, has run its course
The first next-gen ThinkPad notebooks that do not use the old system have already been unveiled. The budget models ThinkPad E14/E15 as well as the ThinkPad L13 all use a new simplified naming, which drops one digit from the model number.
Now it is also sure that the more expensive models will adopt this system as well. The first hints of the successors to the ThinkPad X390 and ThinkPad T490 can already be found on the Lenovo website. Of course, there are no specifications or pictures, but at least we now know that they will be called Lenovo ThinkPad X13 and Lenovo ThinkPad T14.
Accordingly, other new ThinkPad notebooks will follow the same rules too. In the case of the ThinkPad T590 for example, the successor would be called ThinkPad T15. Not affected should be the premium model ThinkPad X1 Carbon, as this one always used a dfferent naming system.
There is no information about the release date of these new ThinkPad laptops. We do not expect them to come out in 2019 though. Traditionally in the last years, Lenovo announced the new ThinkPad laptops between the CES in January and the MWC in February