Lenovo Moto Z & MotoMods: Steve Jobs appears in new TV spot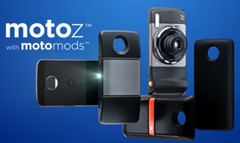 Lenovo mentions Apple und their first iPhone in a new TV spot for the Moto Z and the MotoMods modular accessories and says, that there have not been any meaningful innovations since Steve Jobs introduced the iPhone in 2007.
Lenovo asked an actor to play Steve Jobs and hold Apple's first iPhone into the air, a moment the company recognizes as a major innovation for the smartphone business. Since then, they argue, that there has not been any meaningful innovation in the smartphone business, of course up until 2016 where Lenovo released the Moto Z, the Moto Z Play and the modular MotoMods accessories. Some might of course argue, that this is a tainted version of history but hey, this is a TV-spot from Lenovo so of course it lacks objectivity.
In fact, Lenovo has made modularity a better reality than LG with their G5 for instance, where the phone has to be turned off before LG Friends can be attached. Still, modular phones have not been successful so far, Google recently stopped Project Ara, their version of a modular phone and some argue, that modular accessories don't give customers enough incentive to actually use them, especially for the prices they go for. Still, if you watch Lenovos ad, the MotoMods are the best thing since sliced bread. Watch for yourself down below!