Mophie Moto Mod battery pack for Moto Z hits Verizon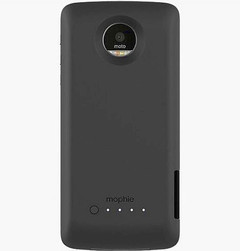 This battery mod for the Moto Z, Moto Z Force, and Moto Z Play handsets appears to be a Verizon Wireless-exclusive product and carries a $79.99 USD price tag. Fortunately, this accessory should work fine with unlocked Moto Z phones as well, but also with those on other networks.
Verizon Wireless has just introduced a new accessory for the Moto Z handsets in its portfolio. Even better, the Mophie juice pack Battery Mod should work without problems on any Moto Z, Moto Z Force, or Moto Z Play phone, including unlocked ones and those connected to other networks.
The highlights of this battery pack include a 3,000 mAh capacity, a convenient LED power indicator, and support for USB-C fast charging (15 W). Using it with a supported device is extremely easy since this battery pack comes with built-in magnets that allow it to attach to the back of the phone. Fortunately, it is also slim and light, so the 60 percent increase in battery capacity does not come with a similar increase in bulkiness.
The Mophie juice pack Battery Mod is now up for pre-order directly from Verizon Wireless. The price tag reads $79.99 USD and shipments should begin shortly.