Lenovo Phab 2 Pro to go on sale next week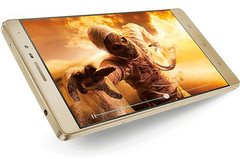 The upcoming 6.4-inch phablet that would bring the Google Tango 3D technology to the masses will go on sale November 1, carrying a price tag around $500 USD. Its specs are expected to include a QHD display, the Qualcomm Snapdragon 652 processor, and 4 GB RAM.
Lenovo Phab 2 is a whole lot of phablet to get for just $199 USD, but it lacks the main ingredient that makes the upcoming Phab 2 Pro an interesting choice for many Google fans - the Tango 3D technology. After a long time spent in the rumor mill and countless delays, it looks like the first Google Tango 3D-enabled handset will finally launch, and this event is scheduled to happen on the first day of November.
Google's VR head Clay Bavor has recently mentioned that the Phab 2 Pro handset is ready to hit the market in November, but did not unveil an accurate date. Now, the official Phab 2 product page clearly reads "Phab 2 Pro Coming Soon. Available November 1." In addition to the 3D camera that would scan the surrounding environment and create 3D maps to be used by various augmented reality apps, the upcoming Phab 2 Pro should come packing a Qualcomm Snapdragon 652 processor, 4 GB RAM, 64 GB internal storage, as well as a generous 6.4-inch display with 2,560X1,400 pixels.
Those not crazy about such things as augmented reality can get the affordable Lenovo Phab 2. While having the same screen size, it only offers 1,280X720 pixels, and its hardware specs are quite modest - a MediaTek MT8735 processor, 3 GB RAM, 32 GB internal storage.
We will get back to the Lenovo Phab 2 Pro next week after its launch, so stay tuned.