LG Pay to hit the US by June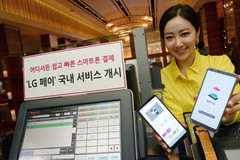 After a few delays, LG Pay launched in South Korea last summer and, thanks to its moderate success in that market, LG has decided to bring it to the US in the first half of 2018 with the help of the G7 and V40 flagships. The mid-range handsets are expected to get support for it at a later time as well.
Last June, LG Pay made its debut in South Korea. This happened after a few delays and even a few cancellation rumors. Fortunately for LG, everything turned out fine in the end and its mobile payments service seems to be doing all right in South Korea. According to a recent report published by the South Korean Yonhap News Agency, LG confirmed this Tuesday that LG Pay will hit the United States during the first half of this year.
LG Pay uses wireless magnetic communication to make payments, while the competing Samsung Pay service uses a technology known as magnetic secure transmission to accomplish the same goal. However, Samsung Pay is already available in 18 markets, including the US, China, the United Kingdom, Switzerland, and Singapore.
The report mentioned earlier also revealed that LG Pay might hit the US as LG Wallet with the LG G7 and the LG V40. Mid-range handsets are supposed to get this feature next year as well. The LG G7 is expected to surface at the MWC 2018 in Barcelona at the end of next month and should hit the US market in March or April.
The US market of mobile payment services is quite crowded, most smartphone users being already able to use at least one of the following: Google Pay, Samsung Pay, Apple Pay. Even more, some fitness trackers by Garmin and Fitbit can also perform contactless payments.