Kojima predicts how 5G and Google Stadia will transform the entertainment industry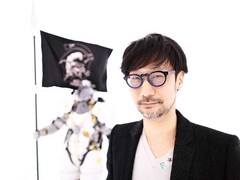 The creator of the Metal Gear franchise envisions a future where streamers could directly interact with their viewers in new types of games, thanks to increased Internet speeds and more stable cloud gaming services. Advanced AI developments will also play an important role not only in games, but in movies as well. AI may also help consumers choose movies and games according to preset preferences.
Renowned game designer Hideo Kojima recently expressed his excitement about upcoming technologies like 5G and cloud game streaming services in a Nikkei interview. The creator of the Metal Gear series and the upcoming Death Stranding game provided his own insights on how faster global Internet connections and services like Google Stadia may reshape the entertainment industry.

According to Kojima, in around 5 years, the gaming and entertainment industry as a whole will reach new interactive heights. As 5G spreads across the world and cloud gaming services become more stable, streaming platforms like Twitch and YouTube could eventually allow streamers to interact with their viewers directly inside the games they play. Moreover, movie streaming services would evolve to offer more interactive movies like "Black Mirror: Bendersnatch," but the entire experience would be rendered in the cloud by powerful AI clusters, not filmed beforehand.

AI will also impact the way consumers choose their video and gaming content. Kojima believes that, within several years, we would not be searching for new movies or games anymore and instead let the AI parse through the multitude of game and movie titles according to ourpredefined preferences.

While 5G and the new possibilities offered by streaming services are very enticing, the physical latency dictated by the limits of the light speed may still keep competitive gamers from switching to simplified experiences that do not require a PC or console. AI, on the other hand, may prove more important for the evolution of the entertainment industry.