Khronos' Vulkan ray-tracing extensions launch after Xbox Series X spec reveal: will leverage spare CPU cycles to maximize performance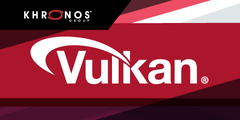 Khronos Group recently announced the official launch of Vulkan's ray-tracing extensions. The platforms ray-tracing features will largely deliver parity with Microsoft's existing DXR 1.1 standard, with the exception of some nifty performance options.
Khronos Group, the overseers of the Vulkan graphics API standard, recently announced the public release of ray tracing extensions for Vulkan. This is a major step towards the wider adoption of ray-tracing in games: previously, Microsoft had announced the DXR extension to its proprietary DirectX API for ray-tracing support.
Vulkan ray-tracing, however, is the first open-source API solution. More than anything else, this shows that ray-tracing isn't a proprietary fad like HairWorks or PhysX, and that the community's been working on a solution since at least 2018. Strictly speaking, vendor-specific ray-tracing implementations have existed on Vulkan for quite some time:the RTX-enabled Vulkan title Wolfenstein: Youngblood used Nvidia's vendor-specific extensions.
Vulkan's new ray-tracing support doesn't offer anything radically new, apart from feature parity with the DXR 1.1 standard. However, Khronos' announcement hints at potential performance benefits from running ray-tracing workloads over Vulkan. This in terms of the "Build Acceleration Structure on Host" feature, which essentially pushes some of the ray-tracing workload back to idle CPU cores.
In games that don't fully saturate 12 or 16 threads, this could be a great way of extracting additional performance. With the Xbox Series X's ray-tracing capabilities confirmed and now the Vulkan announcement, we might finally start games deploy ray-tracing features without being limited to Nvidia's RTX series.