27-inch 1440p monitors are the sweet spot these days especially now that Sony has finally updated its PS5 to officially support a native 1440p resolution output. The IPS-based Dell S2721DGF has become the popular option for most gamers, but the affordable Jlink E27QP4K can be considered the VA alternative for users who desire deeper contrast ratios. The manufacturer has sent us a sample for our impressions and measurements. The monitor is currently on sale for $270 USD on Amazon.
When measuring brightness on the maximum brightness setting, the top right of the monitor can be almost 90 nits brighter than the bottom left to represent poor brightness uniformity. This isn't a huge issue during use, but it's definitely an area that could be improved upon for future revisions.
Jlink E27QP4K 27 inch monitor


2560x1440, 27.00

Innocn 27M2U 27-inch monitor


3840x2160, 27.00

Innocn 27C1U Monitor


3840x2160, 27.00

Auzai M215BH Monitor


1920x1080, 21.50

MSI Creator Z17 A12UGST-054


AUO3C9B (B170QAN01.0), IPS, 2560x1600, 17.00

Display

20%

22%

3%

27%

Display P3 Coverage

66.1

sRGB Coverage

97

AdobeRGB 1998 Coverage

67.9

Response Times

30%

-9%

-13%

66%

Response Time Grey 50% / Grey 80% *
Response Time Black / White *
PWM Frequency
Screen

-11%

-24%

-58%

-65%

Brightness middle

284.7

Brightness

256

Brightness Distribution

72

Black Level *

0.09

Contrast

3163

Colorchecker dE 2000 *

5.44

Colorchecker dE 2000 max. *

11.12

Colorchecker dE 2000 calibrated *

1.14

Greyscale dE 2000 *

8.9

Gamma

2.28 96%

2.32 95%

2.28 96%

2.07 106%

2.33 94%

CCT

9402 69%

6946 94%

6620 98%

6766 96%

6230 104%

Color Space (Percent of AdobeRGB 1998)

61.7

Color Space (Percent of sRGB)

94.5

Total Average (Program / Settings)
* ... smaller is better
Our X-Rite colorimeter results show the monitor to be poorly calibrated out the box with average grayscale and color deltaE values as high as 8.9 and 5.44, respectively, when on the default color settings. Grayscale and colors would improve dramatically to <2 each once we properly calibrated the display. We recommend applying our ICM profile above for more accurate colors.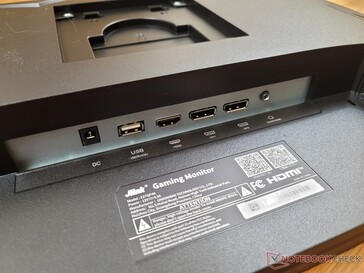 Setup is very straightforward, but it will require a Philips screwdriver to attaching the base to the arm. Other monitors, like the Dell S2721DGF have hand-twist screws for a tool-free setup in comparison. The arm and metal base are otherwise firm and free of any defects on our particular unit. Users can rotate the arm side to side, lift the screen higher or lower, tilt the screen up or down, or rotate the screen between portrait or landscape modes.
For the full 165 Hz refresh rate, users must utilize DisplayPort as the HDMI port supports only 144 Hz.
Jlink advertises full sRGB coverage which we can confirm with our own independent measurements. We can also confirm the very high contrast ratio of ~3000:1 compared to only ~1000:1 on most IPS alternatives. The deeper black level is one of the biggest reasons for choosing VA over IPS.
Response times are good but nowhere near as fast as most IPS monitors where 3 ms or faster are becoming commonplace. Black-to-white takes almost 12 ms and gray-to-gray is even slower at 14 ms. The blurring when gaming is thankfully slight and not a deal breaker to our eyes.
The monitor can demand up to 43 W from the small (~12 x 5.4 x 3.2 cm) 54 W AC adapter depending on the brightness level. Unlike the Dell S2721DGF which only needs a power cord, the Jlink requires an external power brick with its own proprietary barrel port. Be sure to not lose the AC adapter.
The most notable attributes of the Jlink E27QP4K are its 165 Hz refresh rate, FreeSync and G-Sync compatibility, affordable price, high contrast ratio, sRGB coverage, and easy-to-navigate OSD. Major drawbacks include the lack of AdobeRGB coverage, average response times for a gaming monitor, relatively poor brightness distribution, poorer viewing angles for portrait mode, and image smearing that's common on VA panels. It's a good option for gaming purposes especially if you can find it on sale. Otherwise, the similarly-priced Dell IPS-based S2721DGF has it beat in most cases outside of contrast ratio.
Pricecompare
After graduating with a B.S. in environmental hydrodynamics from the University of California, I studied reactor physics to become licensed by the U.S. NRC to operate nuclear reactors. There's a striking level of appreciation you gain for everyday consumer electronics after working with modern nuclear reactivity systems astonishingly powered by computers from the 80s. When I'm not managing day-to-day activities and US review articles on Notebookcheck, you can catch me following the eSports scene and the latest gaming news.