Impressive infographic details how the Samsung Galaxy S series has evolved, from S to S10+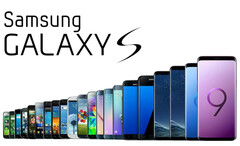 Gadgetsdeck has produced a handy infographic that shows how the Samsung Galaxy S series of smartphones has evolved over the last decade. The chart covers the model variants too, including the Edge devices, the Plus versions, and all three of the main models of the upcoming Samsung Galaxy S10 flagship smartphones.
If you ever wondered how much had changed between the original Samsung Galaxy S smartphone and the forthcoming Samsung Galaxy S10+, Gadgetsdeck has you covered. The site has published a useful infographic that details the main specifications of every Galaxy S smartphone release, along with a drawing of each device so you can easily see just how the bezels have become narrower to the point of extinction.
It's amazing to think back in 2010 the flagship Samsung Galaxy S offered just 512 MB RAM, a 1500 mAh battery, rear-facing 5 MP camera and a VGA selfie camera. The smartphone ran on Android 2.1 Eclair (later upgraded to 2.3 Gingerbread), and it was powered by a Samsung Exynos 3 processor that had a single core and was fabricated on a 45 nm process.
Skip forward to 2019 and we have the Samsung Galaxy S10+ as the top-end model in the upcoming S10 series. This powerhouse offers up to 12 GB RAM, a 4000 mAh battery, and it wields a rear-facing triple camera setup and dual front cameras. The S10+ will run on Android 9.0 Pie, and it will be powered by a Samsung Exynos 9820 processor (Snapdragon 855 in some regions) that has eight cores and is manufactured on an 8 nm process.