HTC could release Android 9 Pie for the U11, U11+ and U12+ almost a year after initially confirming that it was going to do so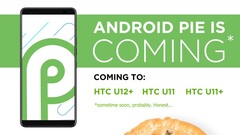 It may have taken over 7 months, but HTC has finally confirmed in which quarter it plans to release Android 9 Pie for the U11, U11+ and the U12+. The three devices should receive the update in Q2 this year, which could by the end of June at the latest. Do not hold your breath though, because HTC has thrown in some caveats too.
HTC has at long last confirmed when it plans to release Android 9 Pie for the U11, U11+ and U12+. The company confirmed in August last year on Twitter that it would upgrade the three devices but has made owners wait over 7 months before announcing when it plans to do so. HTC recently shared the following on Twitter:
We wanted to share the status on the Android 9 update. HTC is currently working on ensuring the update is compatible with our phones & we anticipate a release for U11, U11+ & U12+ customers starting Q2'19. Exact timing defers to operators' availabilities in different countries.
While this looks like the U11, U11+ and U12+ will receive Android 9 Pie between April and June on the face of it, HTC has included some major caveats. Firstly, it only anticipates releasing the update starting in Q2 this year, which is not a commitment to do so. Moreover, the planned release date only applies to unlocked devices and not those that are tied to carriers. HTC has offered no roadmap for when carrier locked devices will receive Android 9 Pie, if at all.
The HTC U11, U11+ and U12+ impressed us during our tests, with all three devices achieving an overall score of 89% in our reviews. However, HTC is taking an unacceptably long time to deliver Android 9 Pie to its flagship smartphones. We shall keep you updated if or when Pie sees the light of day on these devices, but do not bet your house on that happening within the next three months. HTC is quickly becoming worse than LG and Samsung at delivering major software updates, which is a crown to which no competent company should aspire.