Graphic Cards for Pros
Their performance and who needs them
In the following editorial we are going to occupy ourselves with the pro cards à la Quadro and FireGL which are mainly integrated in mobile work stations and professional notebooks. These, combined with professional applications based on GL, are said to be especially efficient.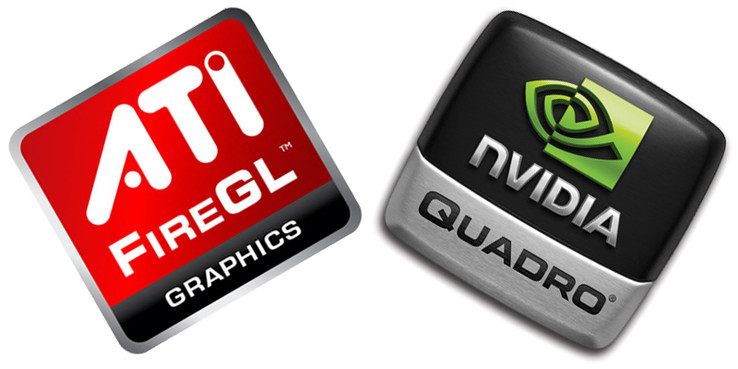 What is OpenGL?
OpenGL is a 3D programming interface which can be considered as a competing product for Microsoft's DirectX. With OpenGL complicated 3D scenes can be displayed in real-time and furthermore can be individually upgraded.
Advantages of OpenGL are especially:
1. Driver support
The more often better driver support from the manufacturer's side (This take effect particularly in the area of mobile computers because the driver support of the consumer graphic cards such as GeForce and Radeon are generally incumbent to the notebook manufacturers and turns out quite miserable, as a rule).
2. Expandability
Graphic card manufacturers have the possibility to expand the interfaces with further functions. Through this special commands can be directly executed instead of having to make a detour of emulation (very important in the CAD field). This effects the functional range, speed, and stability.
3. Independance from Platform
OpenGL is platform and programming language independent. Due to this it is easy for different systems to translate. OpenGL is for instance, a part of MS Windows, MacOS, Linux, Solaris, et al.
Because of these advantages OpenGL is found mainly in the professional area under Windows. The opponent, DirectX, however dominates the computer gaming department whereas OpenGL plays only a subordinate role. OpenGL basically finds application in the gaming area in various game consoles (XBOX 360, Playstation 2/3), and in MacOs gaming software.
Where's the difference between a pro graphic card and the ordinary built in consumer versions?

Generally, the pro cards are, considering the hardware, simply regular graphic cards of their respective performance category. (Differences are found in the desktop versions, for example, which offer special equipment details like connections for 3D shutter glasses). A mobile FireGL V5700 is equivalent, for instance, to a mobile ATI Radeon HD 3650.
The basic difference lays however in the special alignment. Through a modified BIOS and special drivers pro cards are bent on high performance in regards to OpenGL. Furthermore these are tested for compatibility with customary OpenGL applications and are certified accordingly.
These measures lead to a partly considerable performance increase in comparison to the respective consumer cards and also to an optimized stability. DirectX functions stay preserved, however, can fall considerably in comparison to the consumer cards depending on the model in the singular case (for further information see Benchmark list HD3650/FireGL V5700). A further advantage which speaks for the OpenGL cards are the periodic driver maintenance and the considerably more of extensive manufacturer support.
| Professional graphic cards | Consumer graphic cards |
| --- | --- |
| OpenGL optimized | DirectX optimized |
| nVidia Quadro | nVidia GeForce |
| ATI FireGL/ FirePro | ATI Radeon |
Benchmark List
Model

Memory-

type

Memory-

bus

Memory-

size

Cinebench R10 OpenGL

SPEC View Perf. 10.0 (1280x1024) in fps


3D Mark `06

3D Mark Vantage

Reference Test

nVidia Quadro FX 3600M

GDDR 3

256 bit

512 MB

6193

3DS Max 34,06


Catia 39,56


En Sight 30,77


Maya 59,63

ProEngeneer 37,69


Solid Works 56,96


UGS TC 19,22


UGS NX 19,85


8236

nVidia Quadro FX 770M

GDDR 3

128 bit

512 MB

6180

3DS Max 33,06

Catia 40,10


En Sight 31,74


Maya 85,05

ProEngeneer 36,12


Solid Works 55,00


UGS TC 19,01


UGS NX 17,52


5363

nVidia FX 1700M

3DS Max 37,53


Catia 41,73


En Sight 37,04


Maya 59,80

ProEngeneer 38,74


Solid Works 49,25


UGS TC 20,40


UGS NX 22,28


nVidia 9800 GTX

GDDR 3

256 bit

1024 MB

5954

9952

4545

nVidia FX 1600M

GDDR 3

128 bit

512 MB

5226

4798

AMD Fire GL V5700

GDDR 3

128 bit

512 MB

5049

3DS Max 32,40


Catia 30,16


En Sight 25,95


Maya 101,84

ProEngeneer 33,29


Solid Works 67,46


UGS TC 23,27


UGS NX 27,43


2150

1017

AMD HD 3650

GDDR 3

128 bit

256 MB

4556

3DS Max 11,45


Catia 11,31


En Sight 14,13


Maya 19,03


ProEngeneer 7,90

Solid Works 17,15


UGS TC 4,15


UGS NX 6,9


3872

nVidia FX 570M

GDDR 3

128 bit

256 MB

4534

3904

nVidia 9400M

Shared (DDR3)

-

-

4400

2148

nVidia 9600 GT

GDDR 3

128 bit

512 MB

3359

3527

nVidia Quadro FX 370M

GDDR 2

128 bit

256 MB

3031

3DS Max 11,45


Catia 16,79


En Sight 11,96


Maya 27,29

ProEngeneer 13,67

Solid Works 21,75

UGS TC 5,09


UGS NX 6,78


1595

nVidia Quadro NVS 160

GDDR 3

128 bit

256 MB

3006

2278

nVidia 9600 GT

GDDR 2

128 bit

512 MB

3003

4390

AMD HD 3470

GDDR 3

64 bit

256 MB

2951

nVidia 9300M GS

GDDR 3

64 bit

256 MB

2796

2191

AMD HD 3650

GDDR 2

128 bit

256 MB

2754

3302

AMD HD 3450

GDDR 2

64 bit

256 MB

2536

1823

nVidia Quadro NVS 140

GDDR 3

128 bit

256 MB

2408

1614

Intel X4500 HD

Shared

-

1185

945
Note to the graphic cards: The OpenGL graphic cards listed here are selected models which are found frequently built in to notebooks at the moment and for which test results are currently available. Brand new or older types can be alternately found in the Notebookcheck Comparison List and compared.
Notes to the benchmark list: Please consider that the listed values are test results of certain configurations. The GPU, as a rule especially the CPU, hard disk, RAM and display resolution influence the results. Also, you have to consider that full performance is not always given in battery mode.
Note to the benchmarks: The listed benchmarks are meant to clarify the efficiency of the graphic card in the OpenGL range, as well as to give comparison values for DirectX performance. The Cinebench R10 OpenGL Shading and 3D Mark '06 are so-called "synthetic Benchmarks". These are aimed to stress certain components (in our case the graphic card) and to rate the efficiency. The results are noted in a point system, the higher the better. The SPEC test contrarily belongs to the so-called "real-life benchmarks" that revert to certain process steps in order to attain a more realistic/program orientated result. The results are indicated in frames per second for the respective program. In this case the higher the value, the smoother the display applies, too.
Who needs an Open GL-optimized graphic card?

Three conditions/questions should be taken in account before acquirement:

1. Software

With which programs do you work/are you going to work with and in how far do these build on an OpenGL functionality? (See the software summary at the end of this editorial).
2. Frequency
How intensive will the OpenGL based software be used and how high is its part in the daily process flow?

3. Activity
What requirements do you have considering optimal driver support, maintenance and stability? Devices equipped with a pro card are usually certified/tested for a whole range of software and grant a high degree of compatibility, stability and support.

Case study: The student, who is short of money, may be able to do without perhaps sooner than the architect who earns his living with it. The student would take a device with HD 3650 or 9600GT for reasons of cost, the architect would choose a notebook with V5700 or FX 770M for reasons of support and speed.
Verdict:
Commercial customers who intensively work with the programs mentioned below can't get around the respective equipment. Speed, stability and support are adapted for the professional field and offer the best possible performance.
The occasional user, however, should evaluate exactly how additional costs relate to usage intensity and decide according to his cost-benefits analysis.
Software Summary
In the following is a summary of the most common OpenGL software. This is not to be seen as conclusive or complete, it is only meant as a suggestion.
CAD Computer Aided Design

AutoDesk AutoCAD

AutoDesk Inventor

AutoDesk Revit

Bentley MicroStation

Dassault CATIA V5

UGS I-DEAS 10

I-DEAS 11

UGS/PLM Unigraphics NX. NX2, NX3

UGS Solidedge

PTC Pro/E 2001 Mechanica

PTC Pro/E Wildfire Mechanica

SolidWorks

MSC.Patran

SensAble

CoCreate OneSpace Designer

ICEM Surf

PTC DV Mockup

DCC Digital Content Creation

Discreet 3DS

MAX/Combustion

Alias Maya

Alias Studio Tools

Avid SoftImage XSI/3D

Avid Xpress Pro

Adobe Premiere

Adobe After Effects

GIS Geo Information system

ESRI ArcGIS 9.0

Oil/Gas

SMT

Landmark/GeoGraphix

EDS

Roxar

Schlumberger/Petrel
Normally every software has minimum requirements and recommended requirements. You should never orientate yourself on the minimum since operating speed, work flow and quality (image) usually suffer through this.
Don't forget other important elements when choosing the right notebook!
Following points should be evaluated and considered in addition to the graphic card when choosing the right notebook. In doing so you often have to decide which equipment detail you favor since not every one is available together or combinable.
1. Display properties

Size, resolution (work surface, detail depth), outdoor competence, color spectrum

2. Connectivity/Connections (eSata, FW400, FW800, UMTS)

3. Hardware CPU/RAM, internal hard disk (number, velocity)/SSD

4. Flexibility/Extensions

Blank module docking station/port replicator for a quick connection of stationed equipment.

Many of these options are narrowly connected with mobility. Therefore it's always necessary to weigh up pros and cons for the particular field of application.
Module slots for a quick exchange of opt. drive, hard disk, battery, floppy