Google Play removes most apps with lock screen ads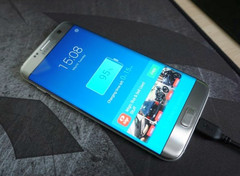 A few years after removing apps that showed ads as push notifications, Google takes one more step in the right direction and forbids apps that display ads in the device's lock screen from being distributed via Google Play.
Working For Notebookcheck
Are you a techie who knows how to write? Then join our Team! Especially English native speakers welcome!
Currently wanted:
News and Editorial Editor - Details here

Google Android might rely heavily on advertising, but there are always borders that must not be crossed. When it comes to the apps available via the Play store, many developers are pushing Google's limits when they are adding ads to their creations. Fortunately, Google does not leave such situations hanging for long in most cases, and it seems that the time has arrived for a new purge on Google Play.
Back in 2013, Google stopped developers who were distributing apps via Google Play that also included ads, later to be shown as push notifications. Now, those in Google's crosshairs are the apps that bring the ads to the device's lock screen.
However, the updated developer policy reveals that ads can still be used on apps that have been exclusively designed as lock screen replacements and nothing else. Any other apps must now obey Google's rule that says a big, fat "NO" to monetizing the locked screen of a device by any means.
Now, it only remains for Google to come up with a paid Android version that has absolutely no ads. As unlikely as it sounds for such a thing to come out, I would definitely pay for such a piece of code. A subscription-based service similar to YouTube Red would also fit in nicely.