Google Maps update: 5 features that are finally here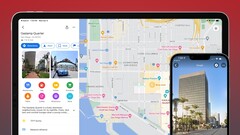 The choices and comments made on this list belong solely to the author.
1. Taking the toll road
For the first time ever, Google Maps will allow users the option to view estimated toll prices while mapping out their route. This makes it easier to choose between toll roads or toll-free routes depending on a variety of factors, including toll pass or other forms of payment, the date, and time a user is expected to be crossing it based on route configuration.
According to Google, toll estimates will span more than 2,000 roads across the US, Japan, and Indonesia with support for even more countries rolling out soon.
2. Detail-rich maps
An all-new navigation experience in Google Maps enables users to more easily interpret directions with user interface visualization for traffic lights, stop signs, buildings, medians/islands, and precise road width.
Google states that these changes "…decrease the odds of making last minute lane changes or missing a turn", but users will have to test the improved maps for themselves to see if these claims hold true. Good news for those who can afford to fill up their RV with gas - no longer find yourself squeezed in on a tight road!
3. Enhanced widgets for iOS
On the iPhone and iPad, users will be able to access a number of new home screen widgets for Google Maps, including a selection that displays trips that users have pinned to their Go Tab.
A widget designed specifically for transit will additionally allow users to view arrival and departure times, while the Google Maps search widget has been reduced in size to unlock one-tap navigation access for frequent destinations.
4. Apple Watch independence
The Google Maps app on Apple Watch takes a major leap forward, empowering users to obtain directions solely from their smartwatch and eliminating the need to begin the navigation from their iPhone.
Ideal for cellular-enabled Apple Watch models, a new "take me home" complication can be added to a user's watch face to instantly map out directions home.
5. Siri and Spotlight integration
Deep integration with Siri and Spotlight for iOS customers comes to Google Maps this summer permitting users the ability to set up Shortcuts app automations that hail directions with their voice. For example users can say "Hey, Siri - search in Google Maps" or "Hey, Siri - get directions".
Self-proclaimed coffee connoisseur and tech enthusiast Brahm Shank is captivated by the impact of consumer tech: "It's profoundly moving when people discover that the phone in their pocket or the tiny computer on their wrist has the power to enrich their lives in ways they never imagined." Apple, Inc. and its unique position at the intersection of technology and the creative arts, resonates deeply with Brahm and his passion for helping people unleash their potential using technology. Over the years, Brahm has held various podcasts - including famed technologist David Pogue of The New York Times on topics such as Big Tech and digital wellness.