Galaxy Tab S6 to get 5G variant, will be first 5G tablet on the market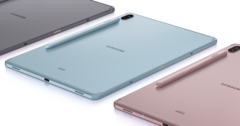 Samsung has been helping to blaze the 5G smartphone trail and it looks set to do the same for tablets. A new Galaxy Tab S6 variant has been spotted going through a Wi-Fi and Bluetooth certification process that also carries the label Galaxy Tab S6 5G suggesting a release isn't far away.
Samsung's Galaxy Tab S6 has been on the market for about a month now and it remains the flagbearer for high-end Android tablets on the market. On its debut it shipped as you would expect in a Wi-Fi-only and a variant with 4G LTE. However, it looks like Samsung wants to add another "first" to its list of breakthroughs by being the first OEM to offer a tablet with 5G connectivity.
The Korean company hasn't made its plans public yet, but they have been spoiled by an eagle-eyed gadget spotter who saw the device going through Wi-Fi and Bluetooth certification. Samsung has led the way with the early adoption of 5G cellular connectivity in its devices this year with the launch of 5G variants of the Galaxy S10, the Galaxy Note 10 and the mid-range Galaxy A90. The Galaxy Tab S6 can now be added to that expanding list.
We expect that other than the addition of a 5G cellular radio, all other key components with remain the same. This means a Snapdragon 855 (a Plus variant is a possibility), 6-8 GB of RAM and up to 256 GB expandable storage. The current Galaxy Tab S6 line is running Android 9 Pie which we don't expect will change for the Galaxy Tab S6 5G model – an upgrade to Android 10 mightn't make an should make an appearance sometime in Q1 2020. (Samsung Galaxy Tab S5e on sale now at Amazon)