Epic MEGA Sale: 3 absorbing RPGs you can get into for a great discount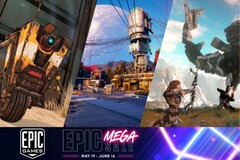 The choices and comments made on this list belong solely to the author.
1. Borderlands 3 is free until May 26
In case you've been living under a rock, Borderlands 3 is Gearbox's latest stab at the legendary vault hunting saga — unless you're counting Tiny Tina's Wonderlands, which is also on sale, by the way — that started all the way back in 2009. The Borderlands pedigree shines through in Borderlands 3, with the usual mix of colourful characters, peppy robots, vast maps, and a great many procedurally-generated guns.
If you've been avoiding Borderlands 3 — either because it's too expensive, you weren't sure if your PC had enough horsepower, or you weren't keen on the shenanigans that took place around the launch — now might be your time to jump in and crush some bandits.
2. Horizon: Zero Dawn is 50% off
Horizon: Zero Dawn is a solid first entry into a franchise — with stunning visuals, solid gameplay, and an enthralling story — that sees the protagonist, Aloy, explore a stunning landscape and hunt giant robot dinosaurs in an effort to uncover the past and stop the apocalypse from happening...again.
The sequel, Horizon: Forbidden West, has already been released on the PlayStation 5 to great fanfare, and while it is still a console exclusive, it's bound to get a PC port — hopefully at some point in the not-too-distant future. You can pick up Horizon: Zero Dawn Complete Edition during the Epic Games MEGA Sale at a 50% discount, for US$19.99.
If you're looking to update your PC gaming rig or get into PC gaming without selling some organs, the Lenovo Legion 5 is great value and is available on Amazon.
3. The Outer Worlds is 67% off
The Outer Worlds is a cinematic space adventure that sees the player explore distant colonies on other worlds after a transit accident leaves them displaced in time by several decades. In true keeping with the RPG genre, your actions, decisions, and allegiances change the relationships and interactions you have throughout the game while you navigate the striking frontier worlds.
If you're a fan of a good, visually-striking RPGs with a touch of open-world goodness, or if you love getting distracted in the details with side quests, check out The Outer Worlds for US$14.84. There is also The Outer Worlds: Non-Mandatory Corporate-Sponsored Bundle for US$15.29 if you want the game with an expansion pass and the original soundtrack.
My interest in tech started in high school, rooting and flashing my Motorola Defy, but I really fell down the rabbit hole when I realised I could overclock the i7 930 in my Gigabyte pre-built PC. This tinkering addiction eventually lead me to study product design in university. I think tech should improve the lives of the people using it, no matter the field. I like to read and write about laptops, smartphones, software and trends in technology.