Warframe and 3 other banging free-to-play games with cross-platform multiplayer support for universal dominance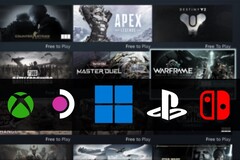 The choices and comments made on this list belong solely to the author.
1. Paladins
Paladins is a 4v4, team-based, PvP, battle arena hero shooter where players command one of an ever-expanding roster of heroes to slay their opponents. There are a variety of game modes to choose from — Siege is the primary game mode that sees players capture and push a capture point into enemy territory, Onslaught is a classic king-of-the-hill game mode where players must work together to control and defend a fixed point to earn points and win the game, and Team Deathmatch is self-explanatory.
Paladins is free-to-play on pretty much anything — with cross-play and account continuity available for PC, Nintendo Switch, Xbox (One and Series devices), and PlayStation (4 and 5).
If you are looking to get into console gaming, the Nintendo Switch Lite is a great value proposition, available on Amazon.

2. Apex Legends
If you're at all familiar with PC gaming, you should be well aware of Apex Legends. In case you're out of the loop, Apex Legends is a fast-paced, battle royale PvP game made by EA. The battle royale genre has been done to death at this point, but Apex Legends' combination of a solid hero roster, fluid game mechanics, and excellent map design really makes it stand out from the pack.
Apex Legends is free-to-play on all the major gaming platforms — even appearing on the Steam Deck Verified list — allowing PC players to show up literally every other platform out there except mobile. Android and iOS users can enjoy playing the recently released Apex Legends Mobile against each other, but unfortunately, cross-play against PC or console is not supported as this version of the game was specifically built for mobile.

3. Warframe (Coming Soon™)
This one is a little bit of a fib — Warframe doesn't support cross-play just yet, although the developers have demoed working cross-play and promise the feature is just being polished before delivery. Given the game's reputation for adding features and shattering expectations, we can expect Digital Extremes to deliver on its promise of cross-play in Warframe before the end of 2022.
Since the open beta launched in March 2013, Warframe has evolved into a jam-packed co-op PvE game with everything from canned, story-driven missions, to expansive open worlds, and rich lore. The premise of Warframe is Space Ninjas — the game centers around characters that remotely pilot advanced battle mechs to slay hordes of faceless minions and bosses on a variety of procedurally generated maps within our solar system.
Warframe is free-to-play on PC, PlayStation 4 and 5, Nintendo Switch, and Xbox One and Series devices. Notably, Warframe is not verified on the Steam Deck, but it is reportedly perfectly playable on Valve's handheld.
4. Vampire: The Masquerade - Bloodhunt
My interest in tech started in high school, rooting and flashing my Motorola Defy, but I really fell down the rabbit hole when I realised I could overclock the i7 930 in my Gigabyte pre-built PC. This tinkering addiction eventually lead me to study product design in university. I think tech should improve the lives of the people using it, no matter the field. I like to read and write about laptops, smartphones, software and trends in technology.