Dell announces their new G3, G5, and G7 budget-friendly gaming laptops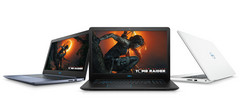 Dell has announced a new G-series of budget-friendly gaming laptops which offer a more affordable alternative to their premium Alienware line-up. This move helps to separate their gaming laptops from the Inspiron notebooks, even though the G5 looks distinctly like the previous Inspiron 15 7000.
Working For Notebookcheck
Are you a techie who knows how to write? Then join our Team! Especially English native speakers welcome!
Currently wanted:
News and Editorial Editor - Details here

For many years now, Dell has offered budget-friendly gaming options under their name as a way to complement their premium Alienware lineup. In recent years the Inspiron 15 7000 series has filled the laptop space, but today Dell is announcing the new G3, G5, and G7 gaming laptops in 15- and 17-inch form-factors.
The new G-series separates the gaming laptops out from the Inspiron line. All three will give decent gaming performance, offering the same GTX 1050, GTX 1050 Ti, and GTX 1060 Max-Q. The i5-8300H and i7-8750H are options for the G3, G5, and G7, but the G7 can also be configured with the i9-8950HK. As you move up through the range, choices for improved 2x2 WiFi, Thunderbolt 3, and enhanced displays become available. Ubuntu will be available in some regions, but those regions were still to be decided at the time of writing. We would expect them to be similar to regions where Ubuntu is offered on other dell laptops.
Dell G3 15 & 17
Dell G5 15
Dell G7 15
Processor
Intel i5-8300H 4C/8T 2.3/4.0 GHz
Intel i7-8750H 6C/12T 2.2/4.1 GHz
Intel i5-8300H 4C/8T 2.3/4.0 GHz
Intel i7-8750H 6C/12T 2.2/4.1 GHz
Intel i5-8300H 4C/8T 2.3/4.0 GHz
Intel i7-8750H 6C/12T 2.2/4.1 GHz
Intel i9-8950HK 6C/12T 2.9/4.8 GHz
Memory
4 - 16 GB DDR4-2666 (max 32 GB)
4 - 16 GB DDR4-2666 (max 32 GB)
4 - 16 GB DDR4-2666 (max 32 GB)
Graphics
Nvidia GTX 1050 4 GB
Nvidia GTX 1050 Ti 4 GB
Nvidia GTX 1060 Max-Q 6 GB
Nvidia GTX 1050 4 GB
Nvidia GTX 1050 Ti 4 GB
Nvidia GTX 1060 Max-Q 6 GB
Nvidia GTX 1050 4 GB
Nvidia GTX 1050 Ti 4 GB
Nvidia GTX 1060 Max-Q 6 GB
Storage
Various options for M.2 SSD (128 - 512 GB) and 2.5-inch HDD (500 - 1000 GB)
Various options for M.2 SSD (128 - 512 GB) and 2.5-inch HDD (500 - 1000 GB)
Various options for M.2 SSD (128 - 512 GB) and 2.5-inch HDD (500 - 1000 GB)
Display
15-inch or 17-inch 1920 x 1080 FHD Matte IPS LED
15-inch 1920 x 1080 FHD Matte IPS LED
15-inch 3840 x 2160 UHD Matte IPS LED
15-inch 1920 x 1080 FHD Matte IPS LED
15-inch 3840 x 2160 UHD Matte IPS LED
Wireless
802.11ac MIMO 1x1 + Bluetooth 5.0
802.11ac 2x2 + Bluetooth 4.2
802.11ac 2x2 + Bluetooth 4.2
Ports
1 x HDMI 2.0
3 x USB3.1
1 x Thunderbolt 3 (optional)
1 x SD card reader
1 x RJ45 LAN
1 x Headphone/Mic
1 x HDMI 2.0
3 x USB3.1
1 x Thunderbolt 3
1 x SD card reader
1 x RJ45 LAN
1 x Headphone/Mic
1 x HDMI 2.0
3 x USB3.1
1 x Thunderbolt 3
1 x SD card reader
1 x RJ45 LAN
1 x Headphone/Mic
Battery/AC
56 WHr / 130 W (1050 or 1050 Ti), 180 W (1060 Max-Q)
56 WHr / 130 W (1050 or 1050 Ti), 180 W (1060 Max-Q)
56 WHr / 130 W (1050 or 1050 Ti), 180 W (1060 Max-Q)
Dimensions
G3 15: 23 x 380 x 258 mm (0.89 x 14.96 x 10.16 inches)
G3 17: 25 x 415 x 279 mm (0.98 x 16.35 x 10.99 inches)
25 x 389 x 275 mm (0.98 x 15.32 x 10.82 inches)
25 x 389 x 275 mm (0.98 x 15.32 x 10.82 inches)
Weight
Not available at time of writing
Starting at 2.65 kg (5.82 lb) for 15-inch FHD + SSD + GTX 1050 / 1050 Ti
Starting at 2.85 kg (6.28 lb) for 15-inch UHD + HDD + GTX1060 Max-Q
Not available at time of writing
Availability
3 April (Limited configurations)
16 April (Full configurations)
3 April (Limited configurations)
16 April (Full configurations)
3 April (Limited configurations)
10 April (Full configurations)
Price
Starting at US$749 (15-inch)
Starting at US$799 (17-inch)
Starting at US$799


Starting at US$849
Dell Press Material
Dell Conference Call