Chuwi teases new Apollo Lake tablet with 3,000 x 2,000 resolution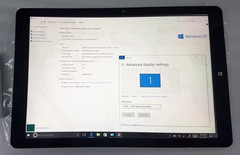 Chinese manufacturer Chuwi started teasing a new tablet on Twitter, that integrates a new Apollo Lake processor and a high resolution display that has the same resolution as the Surface Book by Microsoft.
Tablet and 2-in-1 manufacturer Chuwi based in Shenzhen, China started teasing a new tablet on their Twitter feed recently. Not much information is available as of now but the pictures posted on Twitter do reveal a few tidbits of information. Chuwi decided to integrate an Intel Celeron N3450 processor, which is a 6 Watt Apollo Lake based quadcore silicon running at 1,1 Ghz and reaching up to 2,2 Ghz burst frequency. It is build using a 14 nm process and integrates Intels HD Graphics 500-GPU, running at 200 Mhz and going up to 700 Mhz.
While Chuwi did not yet disclose the physical size of the tablet, it seems to be a 13 or 13,5 inch display judging from the picture where it can be seen next to a Chuwi Hi12 convertible. The resolution of the tablet reaches 3,000 x 2,000 pixels which is exactly what the display in the Microsoft Surface Book offers. Thus, the tablet also has the same 3:2 format as the Surface family. The tablet will support Pen-Input and integrate 4 GB of RAM. Unfortunately we do not have more information to share at this point in time.