Chuwi GBox HTPC promises quad-core Gemini Lake in a compact form factor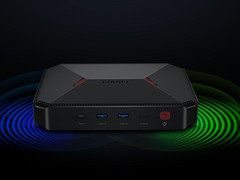 Not to be confused with the ZBox or XBox, the GBox mini PC targets home theater users and video streamers in a chassis just 0.98 L in volume and 1.5-inches thick. Chuwi is promising that the new Gemini Lake platform can bring a 60 percent performance boost over the last generation Apollo Lake while consuming less than 10 Watts for the entire unit. Prices and launch dates remain unknown.
Other than the HiGame mini PC with Kaby Lake-G, Chuwi will also be investing in Intel's Gemini Lake platform for yet another mini PC. Simply called the GBox, the HTPC box will be powered by Intel's 2.4 GHz quad-core N4100 SoC with 9th generation integrated HD Graphics. The passively-cooled hardware promises 4K playback and video streaming with support for VP9 and 10-bit HEVC.
Outside of the brand new Celeron CPU, the GBox will ship with 4 GB of RAM, wireless-AC, and 64 GB of ROM expandable to 2 TB. USB Type-C, HDMI 2.0, VGA, RJ-45, MicroSD card reader, and 4x USB Type-A complete the overall package.
More information on the GBox can be found through its official product page below. Unfortunately, Chuwi has not detailed when or if the system will launch outside of Asia or at what prices we can expect. If assuming a $200 to $300 USD retail range, however, then the GBox should be very competitive against popular media players like the Nvidia Shield, Intel NUC, and Zotac's ZBox series.
Source(s)