Budget Jumper EZbook X4 laptop with Gemini Lake now shipping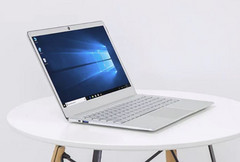 Intel's 14 nm Goldmont Plus platform is seeing a very limited release as laptops equipped with Celeron N4000/N4100 or Pentium N5000 SoCs are still difficult to come by. Chinese manufacturers may finally be jumping in to scoop up the inexpensive CPU series and offer cheap Windows laptops. The EZbook X4 is one such model that promises a lot of mainstream features like 1080p and backlit keys for just under $300 USD.
The Gemini Lake series launched over 6 months ago, but its availability continues to be scarce even to this day. Few notable systems are currently shipping with Intel's 2nd generation low-power processor including the Chuwi GBox, Zotac CI329, and Acer's Swift 1.
Chinese PC manufacturers could soon change things as there are now more inexpensive laptops available with Gemini Lake CPUs. The latest is the 14-inch Jumper EZbook with a Celeron N4100 SoC and integrated UHD Graphics 600 GPU. The system is very likely passively cooled considering its light 1.3 kg weight and relatively thin 13.7 mm profile.
Other major features include a 1080p display, 4 to 8 GB of DDR4L RAM, 9600 mAh battery, dual-band WLAN, 2x USB 3.0 ports, and mini-HDMI. The 128 GB M.2 SSD should also be upgradeable as it is not embedded storage (eMMC). Perhaps surprisingly, the system even includes a backlit keyboard which we would not have expected based on its price.
The Jumper EZbook is now shipping with Windows 10 Home for $300 USD.
Source(s)