CES 2017 | Aorus X5 wins CES Innovation Award for second year running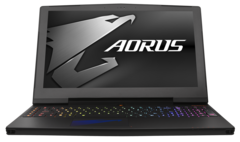 The Aorus X5 has been recognized with a CES Innovation Award in gaming. This marks the second year in a row the slim gaming powerhouse has won this honor.
Since Aorus came on the scene in 2014, the Gigabyte sub-brand has pushed the limits of design and engineering with their X series gaming notebooks. The Aorus X5 v5 was awarded the CES Innovation Award in Gaming last year. The follow-up X5 v6 has successfully carried the torch by winning the CES Innovation Award in Gaming for 2017.
The VR-ready 15-inch laptop carries a lot of power in a small package, boasting an overclockable Intel Core i7-6820HK and an 8 GB Nvidia Geforce GTX 1070 packed into the 22.9 mm thick chassis. The X5 v6 is also equipped with Aorus' RGB Fusion keyboard, which allows each key to be separately backlit with one of 16.8 million possible colors, and an optional 120 Hz LCD display with a response time of 5 milliseconds. Other features include room for up to four storage drives (one 2.5" drive bay and three M.2 SSD slots), four DDR4 RAM slots, ample I/O ports, and a 94.24 Wh battery.