Advertised as "the ultimate all-in-one portable speakers," the Audiocase S5 and S10 can be easily used for a wide range of roles, from basic portable speakers and home audio systems to PA systems, karaoke machines, and practice amplifiers. Both are available for purchase via Kickstarter after a brief (and extremely successful) crowdfunding campaign.
The highlights of the Audiocase S5 and S10 include the following:
Powerful yet efficient Class-D amplifiers with advanced DSP.
High-capacity 100 Wh swappable battery for up to 30 hours of playtime.
Two 10-inch woofers and a single 1-inch compression driver with 3 X 72 W amplifiers on the S10.
Two 5-inch woofers and a single 1-inch dome tweeter with 2 X 72 W amplifiers on the S5.
Up to 125 dB SNR (S10).
Upgradeable firmware.
Bluetooth 5 connectivity with aptX support.
USB charging for various external devices.
In addition to the above, it is also worth mentioning that multiple Audiocase speakers can be connected in a daisy-chain or to create a stereo setup via a Link connection.
Introducing AUDIOCASE – A game-changing portable and powerful hi-fi speaker, guitar amp, PA system, and karaoke machine combined into one for musicians and other creatives
Fully funded on Kickstarter within just one hour!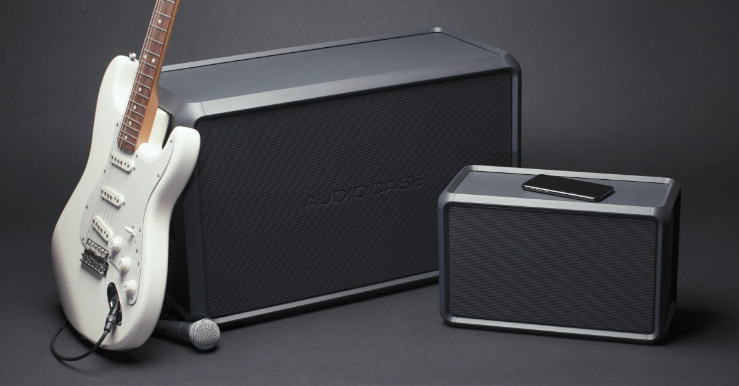 View videos here
COPENHAGEN, 31st AUGUST 2022 – Audio professionals, Audiocase is today pleased to announce the launch of two new Audiocase portable speakers on Kickstarter. The Danish startup is ready to disrupt the market with their ultimate all-in-one portable speaker, home audio system, practice amplifier, PA system, and karaoke machine. The Audiocase S5 is currently selling on Kickstarter at €539/£461/$541 and the S10 is €699/£598/$702, both for a limited quantity, which will receive a significant discount over the retail prices. The Kickstarter campaign is now live and fully funded in just one hour.
Audiocase allows users to listen and create like never before. It is a Bluetooth speaker, PA system, home audio stereo, practice amplifier, and karaoke machine — combined into one portable speaker, providing the quality sound needed for dinner parties, summer hangouts, or jam sessions. It may well be the only speaker ever needed!
The portable PA system that is elegant enough for any living room and thanks to its lightweight aluminum frame and built-in handles, it can effortlessly be taken with you anywhere with unparalleled sound quality, punchy bass, and crystal-clear highs.
The Audiocase S5 and S10 – designed by the award-winning studio KILO Design (AIAIAI headphones) and developed in collaboration with Sound Hub Denmark offers world-class acoustical tuning. Co-founded by Søren Larsen and Kalle Graverholt in 2014 in Copenhagen, Denmark, Audiocase makes powerful portable speakers that are able to connect to any Bluetooth source, musical instrument, microphone, or DJ system. The speakers can also connect to create a more powerful sound system, and have a removable battery that works up to 30 hours on a single charge.
The speakers are engineered to be able to generate enough sound pressure for all the intended potential applications, which means that listening to music is a distortion-free experience compared to standard portable speakers – even large ones. Reaching an SPL up to 125 dB (the larger model), they are about as loud as a portable speaker can get – and still sound good.
The new Audiocase series comes in two sizes and to ensure best-in-class sound quality, both models use custom designed speaker drivers, featuring powerful, and efficient Class-D amplifiers with advanced DSP. Both models offer 30 hours of playtime from a high capacity 100 Wh swappable battery pack and the cabinet is a stackable design that is ready to serve as a guitar amplifier or a party speaker. For even more sound and increased loudness, users can connect multiple Audiocase speakers in daisy-chain or create a stereo setup via Link connection.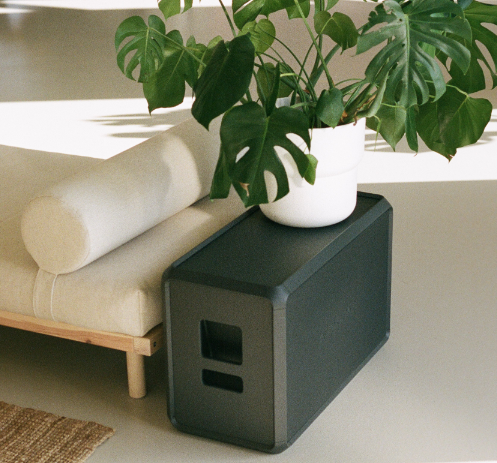 The design results in a contemporary structure that is both sturdy and practical, enabling the speakers to blend easily when intended and being light enough to be carried around to a friend's party or a classroom. The anthracite gray exterior features a powder coated aluminum framework that surrounds the durable PVC sides and formed speaker mesh, providing protection to the housing and interface. Designed to last in both form and construction.
Both models are equipped with Bluetooth 5 supporting aptX codecs, which means streaming in high quality or low latency with high range. Since the speakers are designed to take several separate sources simultaneously, users can connect a microphone and guitar, or a keyboard and an external music player, controlling level and a reverb effect for the two separate inputs. Inputs can be a combination of wireless and wired, via one 3.5mm jack, and two XLR/jack combo inputs. Since the Audiocase is battery powered, both speakers come with a USB port to charge external devices and also to allow firmware updates.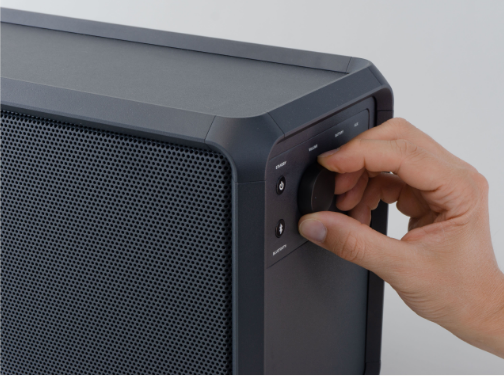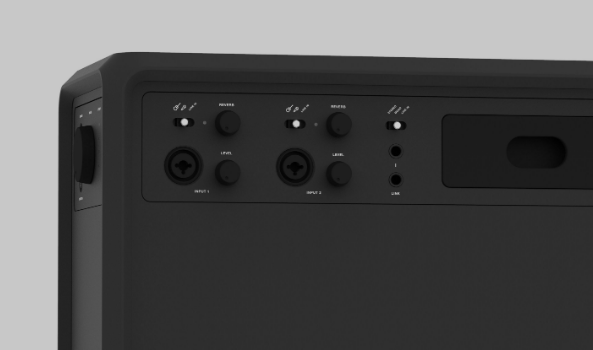 For the product introduction Audiocase is launching a larger S10 model that is equipped with two 10" woofers and a 1" compression driver powered by 3 x 72W Class-D amplification, and a more compact but still big model, the S5, equipped with two 5" woofers and a 1" dome tweeter, powered by 2 x 72W Class-D modules. The size, choice of drivers and power are basically the main differences, with all remaining features and specifications being the same.
"We always wondered why most speakers are designed for one purpose only, sacrificing either sound, design, or function. So we built a speaker for everyone and everything made from durable materials at a price-point that shakes up the current market," says founder Søren Larsen, and continues: "We created a small stylish, speaker for your home and a massive practice, garage speaker – both having PA functions and outdoor EQ, delivering deep bass and an immersive sound experience in a body that reflects the Scandinavian values and design traditions."
The Audiocase S5 is currently selling on Kickstarter at €539/£461/$541 and the S10 is €699/£598/$702, both for a limited quantity, which will receive a significant discount over the retail prices.
In my early school days, I hated writing and having to make up stories. A decade later, I started to enjoy it. Since then, I published a few offline articles and then I moved to the online space, where I contributed to major websites that are still present online as of 2021 such as Softpedia, Brothersoft, Download3000, but I also wrote for multiple blogs that have disappeared over the years. I've been riding with the Notebookcheck crew since 2013 and I am not planning to leave it anytime soon. In love with good mechanical keyboards, vinyl and tape sound, but also smartphones, streaming services, and digital art.