CES 2021 | Asus will incorporate liquid metal cooling in all of its upcoming ROG laptops this year with automated technology comparable to the PlayStation 5 ↺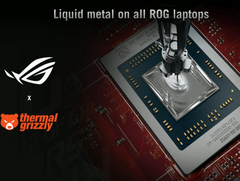 (January 13, 2021 correction: Asus have clarified to us that they have been applying liquid metal to all of their ROG laptops since the launch of 10th gen Comet Lake-H which preceded the launch of the PS5. The CES 2021 announcement only establishes that Asus will continue to use their automated liquid metal process for their upcoming 2021 ROG models. The original story is below.)
Two years ago at Computex 2019, Asus teased a patented automatic liquid metal application process for its then flagship ROG G703 series. Although liquid metal cooling isn't anything new on laptops, it is almost always applied by hand which only slows manufacturing and adds to the final cost. Fast-forward to 2021 and the manufacturer is now ready to apply its new automated process to all of its Republic of Gamers (ROG) laptops moving forward.
Some of the first ROG laptops to utilize liquid metal this year will be the AMD-powered Zephyrus Duo 15 SE and 13.4-inch Flow X13. Asus is promising a core temperature drop of up to 16 degrees C depending on load when compared to standard thermal paste. Keep in mind that only the CPU will have liquid metal while the GPU will still be using standard thermal paste.
The Asus TUF series will not be using liquid metal. Though TUF laptops are also gaming laptops, they are marketed as lower-end alternatives with cheaper hardware than their higher-end ROG counterparts.
When compared to silicone-based thermal paste, liquid metal offers superior conductivity but is significantly more difficult to handle due to its low viscosity and high corrosiveness. Sony already nailed down the automatic application process last year for its Playstation 5 and now it looks like Asus will follow suit. We'll have to wait and see if other OEMs can offer anything similar.
After graduating with a B.S. in environmental hydrodynamics from the University of California, I studied reactor physics to become licensed by the U.S. NRC to operate nuclear reactors. There's a striking level of appreciation you gain for everyday consumer electronics after working with modern nuclear reactivity systems astonishingly powered by computers from the 80s. When I'm not managing day-to-day activities and US review articles on Notebookcheck, you can catch me following the eSports scene and the latest gaming news.