Asus launches the impressive 17-inch ROG G703 gaming laptop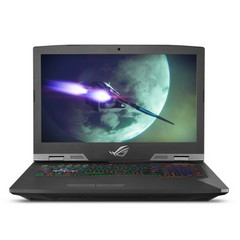 The G703VI-XH74K is a US$3,500 beast that packs impressive features like the 17-inch IPS-grade 1080p display with 144 Hz refresh and G-Sync, the powerful quad-core i7-7820HK CPU clocked at max 3.9 GHz, the superclocked GTX 1080 GPU, along with two 256 GB NVMe SSDs paired in RAID 0 and a 1 TB 5400 rpm HDD.
The latest addition to the Republic of Gamers gaming laptop line comes in the form of the 17-incher G703VI-XH74K. This model easily rivals high-end desktops, but comes at a premium price as well. The G703 is powered by the most advanced mobile CPU on the market right now – the gen 7 Core i7-7820HK. The quad-core/8-thread CPU is clocked at 2.90 GHz by default, but can boost to 3.90 GHz, and packs 8 MB of L3 cache. This one is coupled with 32 GB of DDR4-2800 RAM, while the storage solution includes a RAID 0 matrix made up of two 256 GB NVMe PCie 3.0 SSDs and an additional 1 TB 5400 rpm HDD.

The GeForce GTX 1080 8 GB GDDR5X GPU superclocked to 1,974 MHz (core) and 10.3 GHz (memory) is paired with the impressive 17.3-inch 1080p IPS-level display with 144 Hz refresh rate and G-Sync. The GPU comes with Thunderbolt 3, mini DisplayPort 1.4 and HDMI 2.0 ports.

Other features include:
• 720p webcam
• Dual Gigabit controller with WiFi and Bluetooth 4.1
• 1x USB 3.1 Type-C Gen1, 4X USB 3.0 ports
• Gigabit Ethernet jack
• RGB keyboard with four separate zones and nine lighting effects
• Xbox wireless controller module (controller not included)
• ESS Sabre HiFi DAC with stereo speakers
• 74 Wh 8-cell battery
• 10.6 lbs weight

The Asus ROG G703VI-XH74K can already be ordered from the company's official site for US$3,499.