WWDC 2018 started off with a major presentation in usual Apple style. Also typical of Apple (at least for the past few years) was the disappointing array of features shown off at the developer conference. Case in point: iOS 12, which will be available this fall, refines a few existing features but failed to bring anything new to the table. Rather, iOS 12 feels like too little, too late.
Here's everything that's new:
Memoji: Apple's take on Samsung's take on Animoji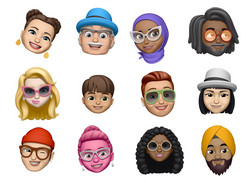 Apple really talked up the new Memoji feature coming to iOS 12, which is the next step in the gimmicky Animoji introduced with the iPhone X. Memoji are essentially just customized Animoji; in essence, Memoji are Animoji that have been custom tailored by the user to look like real people (or at least cartoon caricatures of real people).
Unfortunately, Samsung beat Apple to the punch earlier this year with the Galaxy S9. While Samsung's AR Emoji lacked the accurate tracking present in Apple's Animoji, AR Emoji were fully customizable, something that Apple won't offer until iOS 12 drops this fall.
Group FaceTime: Hangouts with an uglier UI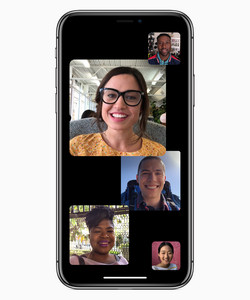 FaceTime is getting a nice new feature in iOS 12; Group FaceTime allows users to video conference with up to 31 other FaceTime users at one time. Group FaceTime conversations will allow users to drop in and out of conversations at will. Users' video feeds are arranged in a group of overlapping portraits with a ribbon along the bottom of the screen.
The new feature feels like a copycat of Google's Hangouts, which has allowed video conferences between up to 10 people for a while now. Also similar to Hangouts, the active speaker (or whoever is the loudest) will have their portrait come front and center. Again, it feels like Apple is just now catching up to a curve that has been in place for years. The design of Group FaceTime also seems like an afterthought; the overlapping portraits can make it difficult to see other people, especially the smaller feeds, and there is a lot of empty black space that goes completely unused.
To Apple's credit, FaceTime works remarkably well, and being able to conference with 30+ other people in real-time on a mobile device is an impressive piece of tech, but the feature just feels patched together in order to compete with companies that have been doing this for years.
AR goes social
iOS 12 will mark the debut of Apple's ARKit 2, and with it comes a new standard file format for AR content, dubbed USDZ. The standard is being pushed heavily by Apple and its partner companies, of which Adobe is the loudest. Abhay Paranis, CTO at Adobe, announced stated that Adobe was "all-in" with AR and that Apple's USDZ was "a big deal." To the end, Adobe's Creative Cloud suite will soon include native USDZ support so that creators can make new AR content and then share it with compatible devices.
The new AR standard also enables AR content to be shared among iOS users. Lego demoed an AR game on stage which allowed two players to build and destroy an AR playset via their own iPads. Whatever AR content was created by one user showed up in the appropriate spot on the other's screen.
Apple is also rolling out a new app, dubbed "Measure," that will do exactly what its name entails. Measure will be able to take accurate measurements of real-world objects, a la Google's Project Tango seen in phones like the Lenovo Phab 2 Pro a couple years back.

Screen Time: Put that phone down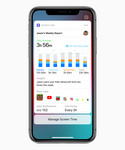 Screen Time is a new method for combating "smartphone addiction" that will be integrated into iOS 12. The Screen Time app will analyze how an iPhone or iPad user spends their time on their phone and can generate a report detailing how much time was spent in each app. Based on this report, users can then set time limits or restrictions on individual apps to better manage their time. Once the time limit runs out, opening the app will result in a screen reminding the user that they've used their allotted time and should "move on to something else." Users can grant themselves an extension if they deem it necessary. These features will also extend to children's iDevices.

Shortcuts: Apple's version of "IFTTT"
Shortcuts is a new feature that will help iOS users automate more tasks with a keyword. While Android (and to some extent, Windows Mobile) has had this functionality via IFTTT, Apple's version is fully integrated into iOS rather than an add-on. That said, action lists can only be launched by setting up a keyword and then speaking that keyword to Siri.
The Shortcuts setup process is intended to be as simple as dragging and dropping, but the sore spot here is the lack of triggers attached to other sensors within the phone. For instance, with IFTTT, users can set their phone to launch a maps app, start a podcast, and turn off WiFi when the phone connects to their vehicle's Bluetooth. An iPhone can indeed do these actions, but the user would need to ask Siri first.

All the rest
There is a smattering of other small updates coming in iOS 12, all of which you can find in our Live Blog of the event here. Apple Books is a redesign of the old iBooks app, the Stocks app now integrates News, CarPlay now supports third-party navigation apps, and more. Of course, the usual performance increases were touted for both OS actions (app launching, camera swiping, etc.) and Siri functionality.
All said, iOS 12 looks more like a refinement of the ideas presented in iOS 11, specifically those introduced with the iPhone X. Overall, though, most iOS users won't see many noticeable improvements. In other words, if an iPhone user skips iOS 12 in favor of remaining on iOS 11, they won't miss much.

I've been a computer geek my entire life. After graduating college with a degree in Mathematics, I worked in finance and banking a few years before taking a job as a database administrator. I started working with Notebookcheck in October of 2016 and have enjoyed writing news and reviews. I've also written for other outlets including UltrabookReview and GeeksWorldWide, focusing on consumer guidance and video gaming. My areas of interest include the business side of technology, retro gaming, Linux, and innovative gadgets. When I'm not writing on electronics or tinkering with a device, I'm either outside with my family, enjoying a decade-old video game, or playing drums or piano.