Apple Maps in iOS 16: 3 trip-enhancing features you may have missed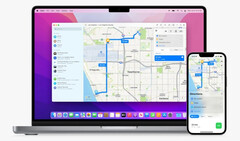 The choices and comments made on this list belong solely to the author.
1. Multi-stop routing
In iOS 16 users can plan up to 15 pit stops prior to beginning route navigation in Apple Maps. macOS 13 Ventura enables pre-planners to map out stops along a route before sending the directions to their iOS device with a single tap.
If users would like to add stops mid-route, after they have already hit the road, they can simply ask Siri. iPhone users will also benefit from a new "recent" section in the Maps app that stores previous routes for convenient access.
2. Helpful integrations for transit and VoiceOver
Apple users who frequently use public transit will be able to add transit cards to their digital wallet and easily receive notifications to reload their transit card balance with Apple Pay, all without leaving the Maps app.
This seamless experience additionally extends to transit fares, which are calculated automatically for users before they begin their journey. In a major step forward for iPhone accessibility, users who rely on the VoiceOver feature to navigate the mobile operating system will have the ability to receive haptic feedback and audio cues that help them more easily identify starting points for walking directions in the Maps app.
3. Revamped graphics
When iOS 16 becomes available to the public later this year, Apple has revealed that 11 countries in Apple Maps will receive a new coat of paint in the form of Apple's latest detail-rich design layout for maps: Belgium, France, Israel, Liechtenstein, Luxembourg, Monaco, Netherlands, New Zealand, Palestinian Territories, Saudi Arabia, and Switzerland.
Landmark cities as well as popular tourist locations, including San Diego, Sydney, Seattle, Montreal, New York, and Las Vegas to name a few, will receive even more meticulously designed models in the Maps app complete with intricate 3D models and accurate lighting fixtures. Developers of ride-sharing and transportation apps like Bird will benefit from the new maps layout in iOS 16 with support for more precise location tracking information while searching for scooters or vehicles.
Self-proclaimed coffee connoisseur and tech enthusiast Brahm Shank is captivated by the impact of consumer tech: "It's profoundly moving when people discover that the phone in their pocket or the tiny computer on their wrist has the power to enrich their lives in ways they never imagined." Apple, Inc. and its unique position at the intersection of technology and the creative arts, resonates deeply with Brahm and his passion for helping people unleash their potential using technology. Over the years, Brahm has held various podcasts - including famed technologist David Pogue of The New York Times on topics such as Big Tech and digital wellness.