Android 13: 4 incredible new features revealed at I/O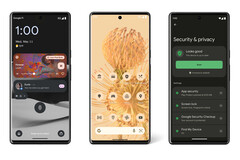 The choices and comments made on this list belong solely to the author.
1. Expanded options for Google Wallet
Google Wallet received one of its biggest updates ever at Google I/O this year with support for even more passes, cards, and other important documents. Users will be able to store a myriad of digital articles, including campus badges, transit passes, car keys, vaccination records, student IDs, and boarding passes. Following in Apple's footsteps, Google also announced plans to eventually introduce digital drivers licenses in Google Wallet.
New Google Wallet APIs will allow developers to integrate relevant passes in their apps, including transit cards when searching for directions in Google Maps. Users will even have the ability to share digital cards hands-free via near-field communication (NFC) or by QR code.
2. Enhanced security for RCS
With over half a billion monthly active users across Android smartphones like the Pixel 6, Rich Communication Services (RCS) remains a widely-adopted messaging standard. With support for features that iMessage users may recognize including read receipts, higher quality images, sending messages over Wi-Fi and more, it's easy to see why a number of Android-based operating systems have already opted to adopt the feature.
Coming later this year, Google will expand its RCS-based messaging service Google Messages to integrate end-to-end encryption for group conversations. Currently, only one-on-one conversations are encrypted end-to-end on Google Messages.
3. Emergency SOS
Android smartwatches running Wear OS 3, including new offerings from Fossil, Mobvoi, and Montblanc coming later this year, will ship with a feature called Emergency SOS. The functionality, which allows wearers to quickly contact emergency services and designated contacts from their wrist, might seem familiar to anyone who owned an Apple Watch Series 4 released back in 2018.
Similar to the Medical ID card on iOS and watchOS, users running the newer version of Wear OS will be able to share their emergency information without unlocking their device. A feature that is already baked in to Android called Emergency Location Services will allow responders to pinpoint a user's location when they call for emergency assistance.
These emergency features are also likely to make their way to the long-awaited Pixel Watch, which is set to go on sale this fall.
4. Earthquake warnings
Early Earthquake Warnings is a feature already available across 25 countries for Android users. Later this year, Google plans to enable support for the feature in a number of high-risk locations around the world.
Regions lacking early warning system infrastructure for earthquake detection will be able to receive incoming earthquake notifications made possible by batch analysis of accelerometer data from Android phones.
Self-proclaimed coffee connoisseur and tech enthusiast Brahm Shank is captivated by the impact of consumer tech: "It's profoundly moving when people discover that the phone in their pocket or the tiny computer on their wrist has the power to enrich their lives in ways they never imagined." Apple, Inc. and its unique position at the intersection of technology and the creative arts, resonates deeply with Brahm and his passion for helping people unleash their potential using technology. Over the years, Brahm has held various podcasts - including famed technologist David Pogue of The New York Times on topics such as Big Tech and digital wellness.