Mediocre Pixel 6a: 3 older flagship phones that pummel Google's newest midranger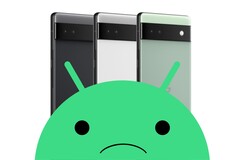 The choices and comments made on this list belong solely to the author.
1. The Google Pixel 5 5G
Google's previous flagship is an obvious choice for a Pixel 6a competitor. Google's compact Pixel 5 5G is equipped with the same camera system as the Pixel 6a, 8 GB of RAM, and a 6-inch, 90 Hz OLED display. Sure, it's bound to stop getting Android updates sooner than the Pixel 6a, since the Pixel 5 is only guaranteed to get Android updates until late 2023. You can get around the software update issue by rooting the Pixel 5 and flashing a custom ROM if you really want the latest and greatest beyond Android 14.
The main differences between the Pixel 5 and Pixel 6a are the size, materials, and the SoC. The Pixel 6a is designed around Google's Tensor SoC — for better or for worse — whereas the Pixel 5a is based on the Qualcomm Snapdragon 765G. The Pixel 5 uses an aluminium frame with a bioresin coating as opposed to the Pixel 6a's Gorilla Glass-and-aluminium sandwich.
You can get an unlocked, refurbished Google Pixel 5 for around US$380 on Amazon, and probably less on sites like Facebook Marketplace or eBay (caveat emptor). Prices will also continue to drop once the Pixel 6a launches, so keep an eye on those as well.

2. Samsung Galaxy S20
The Samsung Galaxy S20 may have been released two years ago, but that doesn't make it any less capable now than it was at launch. The Qualcomm Snapdragon 865 and Exynos 990 are both excellent performers — though the Snapdragon variant is definitely a cut above its Exynos sibling — and the 8 GB of RAM is still plenty for pretty much anything you need.
The Galaxy S20's AMOLED panel is about as bright as anyone would realistically need, and 120 Hz makes it twice as fast as the one we'll see on the Pixel 6a. The camera system on the Galaxy S20 does not disappoint, either — the massive 12 MP, 1/1.76-inch, optically-stabilised main sensor and 12 MP ultra-wide unit perform wonderfully, while the 64 MP 3x zoom effort performs about as well as you can expect from a digital zoom setup.
Unfortunately, the Galaxy S20 will receive its final Android update in 2023 but, as with the Pixel 5, there are plenty of custom ROMs out there and Android updates are pretty iterative nowadays anyway.
A refurbished Samsung Galaxy S20 can be had on Amazon for around US$400, and microSD expansion means you don't have to worry about skimping and buying the cheapest version available.

3. Apple iPhone 11
The iPhone 11 is a really solid device for anyone who doesn't want to spend an arm and a leg for a flagship experience. The Apple A13 Bionic in the iPhone 11 is still plenty powerful for 2022 and beyond. Just like the Pixel 6a, the iPhone 11 features a 1/2.55-inch main camera sensor and a 12 MP ultrawide unit, and Apple's camera smarts put the setup on pretty much even footing — with the exception perhaps being night mode — with what we're expecting from the Pixel 6a. The iPhone 11 will almost undoubtedly run circles around the Pixel 6a when it comes to video performance, despite having a similar sensor array.
Everyone even roughly in the know is aware of Apple's legendary iOS update history. If you are unaware, Apple still supports the iPhone 6s — a device from 2015 — in 2022. The iPhone 11 will likely continue to receive iOS updates long after the Google Pixel 6a receives its last Android update.

You can often find a renewed iPhone 11 on Amazon for around US$350.
My interest in tech started in high school, rooting and flashing my Motorola Defy, but I really fell down the rabbit hole when I realised I could overclock the i7 930 in my Gigabyte pre-built PC. This tinkering addiction eventually lead me to study product design in university. I think tech should improve the lives of the people using it, no matter the field. I like to read and write about laptops, smartphones, software and trends in technology.