Amazon Alexa microwave, receiver, subwoofer, amplifier, and in-car solution coming by the end of 2018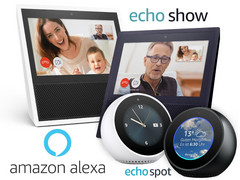 Amazon Alexa fans should get ready to celebrate before the end of the month because the tech giant will soon unveil a few new devices. By the end of the year, the list of new Alexa-driven devices by Amazon should include an in-car solution, a microwave, an amplifier, a subwoofer, and a receiver.
Amazon is looking to expand the reach of its Alexa-driven portfolio and this month a few devices should be unveiled. According to CNBC, the tech behemoth should introduce no less than 8 such devices by the end of the calendar year.
People familiar with Amazon's inner workings, who spoke to the aforementioned source, claim that some of the upcoming devices will have Alexa built-in. Unfortunately, they did not reveal what will be unveiled later this month, when Amazon is expected to unveil some of these devices. However, an Alexa-powered microwave oven definitely sounds cool, not to mention the others that should arrive by the end of December: an amplifier, a receiver, a subwoofer, and an in-car gadget.
In addition to the above, we probably need to get ready for a few surprises as well. According to a report published by Global Market Insights at the end of July, Amazon's Alexa is one of the most popular voice assistants right now and the smart speaker market is expected to hit the US$30 billion milestone by 2024. These being said, what Alexa-driven device would you like to get for this holiday season?