Terrafugia finally prepares pre-sale event for 'flying car'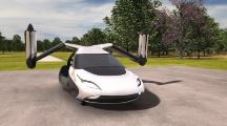 It's 2018, so where's my flying car? Still pending a massive bank balance, apparently. On the other hand, the Transition, which may be the first aircraft also capable of being driven, still looks much more like a plane. The Chinese company behind it will release it for pre-sale in October - for up to US$400,000.
Terrafugia, a subsidiary of the Chinese-owned Geely auto company, is on the brink of unleashing its first-generation flying car on the world. Then again, at a price estimated to be as much as US$400,000, it will hardly be an airborne roadster of the people.
The company has indicated that the vehicle, known as the Transition, will fly under the power of a 4-cylinder, 4-stroke engine that is powered by premium unleaded rather than octane or something more jet fuel-like. On the road, it has been reported to run on a hybrid electrical engine.
Currently, Terrafugia is being rather realistic in projecting that their new offering is most likely to be taken up by customers such as governments or corporations in order to replace light aircraft in some cases. The Transition will be released on a pre-sale event in October.
This event may also showcase the TF-2, a rumored Terrafugia concept. This vehicle may be capable of vertical take-off and landing, whereas the Transition needs a runway like any other aircraft. It will be interesting to see if either design will deliver an actual general-release flying car in the future.