Activision cancelled its WoW: Shadowlands stream to "make space for other voices." Where was that space when Blitzchung and Hong Kong needed it?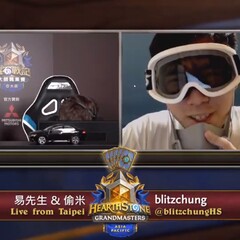 Views, thoughts, and opinions expressed in the text belong solely to the author.
Apparently, Activision Blizzard - publishers of everything from Call of Duty to Sekiro to Spyro the remastered purple dragon - recently realised that it had a responsibility to let important voices be heard.
Activision Blizzard cancelled their World of Warcraft: Shadowlands livestream today, stating in a Tweet that "more important voices than ours need to be heard, and now is the time to listen."
In light of the ongoing US protests against police violence and systemic racism, many companies have been postponing events to ensure that they don't detract from what events that matter right now. However, in light of its history, Activision Blizzard's decision is insincere at best.
Not even a year ago, Blizzard was embroiled in controversy during the Hong Kong democracy protests. In a post-match interview, Blitzchung, a professional Hearthstone player from Hong Kong, said "Liberate Hong Kong, the revolution of our times."
This comment was in relation to mass protests in Hong Kong - attended by nearly 2 million people - against Chinese laws potentially infringing on the territory's autonomy and democratic institutions.
Blizzard's response was to ban Blitzchung from the ongoing Hearthstone Grandmasters' tournament, prohibit him from participating in other Grandmasters' tournaments for a year, and to force him to forfeit US$4000 in prize money.
The punishment prompted five US Senators and Members of the House of Representatives who wrote a letter stating that the move could "have a chilling effect on gamers who seek to use their platform to promote human rights and basic freedoms." The letter was addressed to Activision Blizzard CEO Bobby Kotick, someone who Activision shareholders claimed was being "paid too much."
Blizzard's reaction to the US protests and their harsh crackdown on Blitzchung is a study in contrasts.
In both cases, people were protesting to protect rights that were democratically guaranteed to them. In one case, Blizzard went so far as to cancel its own World of Warcraft livestream to make space.
In the other case, they disqualified a Hearthstone Grandmaster for saying eight words in an interview.
Blizzard isn't the only company that's trying to accommodate voices of protest. Sony recently postponed a PlayStation 5 livestream for this exact reason.
In Blizzard's case though, one question has to be asked: why couldn't Blizzard find space for the voice of Blitzchung and the voices of Hong Kong?
Hearthstone's Chinese player base is the largest in the world, according to the CEO of Netease. In terms of the number of professional players, China is second only to the United States. Moreover, Tencent - a Chinese company that actively contributes to government surveillance efforts - has a five percent stake in Activision.
The freedom of speech and assembly are enshrined in the First Amendment to the US constitution. As a single-party authoritarian state, China offers no such protection.
While Blizzard claimed that their "relationships in China had no influence on our decision," the large Chinese market and differing opinions on freedom of speech go a long way towards addressing why Blizzard may have acted the way it did when it came to Hong Kong and Blitzchung.
Views, thoughts, and opinions expressed in the text belong solely to the author.