A proper Android 10 update is heading to the Redmi Note 7 and Redmi Note 7 Pro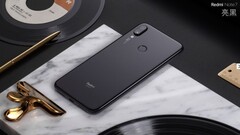 The Redmi Note 7 and Note 7 Pro received the MIUI 11 update a while ago but it was an Android Pie-based build. Users of the phones can rest easy, though, as they're on course to receive a proper Android 10 update in the near future.
The Redmi Note 7 received MIUI 11 a few weeks ago but, as is typical with Xiaomi, the update was based on Android Pie, instead of Android 10 as one would expect. Reports claimed the Redmi Note 7 wouldn't get an Android 10-based build until next year but it would seem that things are being fast-tracked.
Going by an official post on Xiaomi's own MIUI forums, the company is set to send out early beta builds of the Android 10-based MIUI 11 update. Right now, it's exclusive to the closed beta program but it's expected to hit the public "within 2-3 weeks".
As with all things Xiaomi, the update is for the Chinese models of the phones—the Redmi Note 7 and Note 7 Pro, to be exact. A stable global version of the update will be released but owners of relevant models will have to wait for one or two months at least. That, of course, puts us back at the earlier Q1 2020 ETA but hey, progress is progress.