A new kind of smartphone stand may solve common wireless charging problem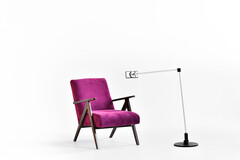 Wireless charging is becoming increasingly popular with mobile device designers, particularly at the higher end of the market. However, it is associated with a potentially significant problem: the inability to use a phone effectively while it has to be on its pad or station. The makers of a novel smartphone stand now available on Indiegogo claim they can help with that.
Working For Notebookcheck
Are you a techie who knows how to write? Then join our Team! Especially English native speakers welcome!
Currently wanted:
News and Editorial Editor - Details here

Wireless charging is slowly moving away from the status of expensive flagship gimmick to an increasingly convincing and effective method of powering one's device. However, even the better and higher-volume wireless standards (e.g. the 15-watt method found in the nearly-new Samsung Galaxy S10) may still take far longer than conventional wall-socket charging. This often leaves a buyer without the use of their phone as it draws power from an inductive station or stand at what can seem like an achingly slow rate.
However, the team behind the new Bluesphere smartphone stand may change all that. Their new wireless-charging design involves a stalk-like stand, which ends with a small, circular, induction-capable protrusion that secures the phone in question to it while powered on.
This enables the user to type on or otherwise use the phone as normal while it charges via its wireless coil. Bluesphere's makers ('hurkins' of South Korea) claims that it can charge at 13 watts (or Qualcomm QuickCharging 3.0 speeds).
The stand may remind some of the security devices for demo phones in their nearest electronics store. However, this comparison is disrupted at least somewhat with the premium materials with which hurkins claims its novel stands will be made.
The Bluesphere can be placed on the floor, or also comes with a handy clamp for its installation on a surface such as a bedside table. The Wireless Smartphone Stand is currently offered as a reward on Indiegogo, at prices starting at US$99. This apparently represents a 56% discount on the 's eventual retail price.
To date, the Indiegogo campaign has gathered $10,095 in terms of backing, or about 100% of its original goal. Therefore, it seems that this potential answer to a question as old as wireless charging itself may indeed come to fruition.