Qualcomm Snapdragon 845 vs Qualcomm Snapdragon 855
Qualcomm Snapdragon 845
► remove from comparison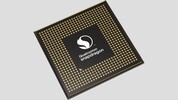 The Qualcomm Snapdragon 845 Mobile Platform (or SD845) is a high-end SoC for smartphones that was introduced in early 2018 and manufactured in 10 nm LPP FinFET at TSMC. Integrates 4x Kryo 385 cores (Cortex-A75) at up to 2.8 GHz (max) for performance and 4x Kryo 385 at 1.8 GHz (max) for efficiency. Furthermore offers an X20 LTE modem (Cat. 18 1.2 Gbps downlink, Cat 13 150 Mbps uplink), ac-WiFi and a dual-channel 32-Bit 1866 MHz LPDDR4x memory controller.
Qualcomm Snapdragon 855
► remove from comparison

The Qualcomm Snapdragon 855 Mobile Platform is a high-end smartphone and tablet SoC that Qualcomm announced in December 2018. The SoC integrates a fast 'Prime Core' that clocks up to 2.84 GHz and three further fast ARM Cortex-A76 performance cores, which can reach up to 2.42 GHz. These are complemented by four power-saving ARM Cortex-A55 cores that clock up to a maximum of 1.8 GHz. The higher 'Prime Core' clock speed should provide significantly better single core performance than the Snapdragon 845, but we suspect that the Snapdragon 855 will fall short of the Apple A12 Bionic. The new SoC should have up to 45% faster single-core performance and 35% multi-core performance than its predecessor. Qualcomm praises the Snapdragon 855's ability to maintain its performance when faced with sustained load, beating the Apple A12 Bionic SoC and the HiSilicon Kirin 980.
The SoC also integrates the new X24 LTE modem that Qualcomm promises will deliver up to 2 Gbit/s maximum download speed over LTE Cat.20 and up to 316 Mbit/s upload speeds. The Snapdragon 855 can be configured with the company's new X50 5G modem too.
Qualcomm has also improved the integrated Wi-Fi modem, which is Wi-Fi 6-ready, has 8x8 Sounding and supports up to 802.11 ay Wi-Fi. The Wi-Fi modem can utilise the 60 GHz mmWave band for up to 10 Gbit/s internet speeds.
The Hexagon 690 DSP has undergone the most revisions of that which Qualcomm has integrated into the Snapdragon 855. The new DSP incorporates a neural processing unit (NPU) with dedicated Tensor-cores that can execute up to 7 trillion operations per second in conjunction with the CPU and GPU. In short, the Snapdragon 855 should be three times faster than the Snapdragon 845 and two times faster than the Kirin 980 SoC.
The Snapdragon 855 also has a Spectra 380 ISP onboard, which is the world's first chip to incorporate a Computer Vision Engine (CV-ISP) that can perform depth calculations in videos at up to 60 FPS. The Snapdragon 855 should deliver real-time portrait modes or be able to detect objects with relatively low power consumption.
The built-in memory controller supports up to 16 GB LPDDR4x RAM (4 x 16-bit). Moreover, the Adreno 640 has 50% more compute units (ALUs) than the Adreno 630, while Qualcomm claims that it should be 20% faster than its predecessor. We currently do not know what clock speeds the Adreno 640 will operate at as Qualcomm did not announce these during the announcement of the Snapdragon 855.
Qualcomm will manufacturer the Snapdragon 855 at the Taiwan Semiconductor Manufacturing Company (TSMC) using a 7 nm FinFET process. The switch to 7 nm manufacturing should make the SD855 20% more efficient than the SD845. Qualcomm has not officially announced the thermal design power (TDP) of the SD855, but we suspect that the SoC will reach a maximum of 5 W and will average around 3.5 W under load.
Model
Qualcomm Snapdragon 845
Qualcomm Snapdragon 855
Series
Qualcomm Snapdragon
Qualcomm Snapdragon
Codename
Cortex-A75 / A55 (Kryo 385)
Cortex-A76 / A55 (Kryo 485)
Series: Snapdragon Cortex-A76 / A55 (Kryo 485)

| | | | |
| --- | --- | --- | --- |
| Qualcomm Snapdragon 850 | 2.75 - 2.96 GHz | 8 / 8 | 2 MB L3 Cortex-A75 / A55 (Kryo 385) |
| Qualcomm Snapdragon 845 « | 2.8 GHz | 8 / 8 | 2 MB L3 Cortex-A75 / A55 (Kryo 385) |

Clock
2800 MHz
2840 MHz
L3 Cache
2 MB
5 MB
Cores / Threads
8 / 8
8 / 8
Technology
10 nm
7 nm
Features
X20 LTE Modem, Adreno 630 GPU
X24 LTE Modem, Adreno 640 GPU
iGPU
Qualcomm Adreno 630
Qualcomm Adreno 640 ( - 585 MHz)
Architecture
ARM
ARM
Announced
Manufacturer
Qualcomm Snapdragon SD 845
Qualcomm Snapdragon SD 855
L2 Cache
1.8 MB
TDP
5 Watt
Benchmarks
Performance Rating
- Geekbench 5.1, PCM Work, Sling Shot Physics, Antutu v8 CPU
- SD 845