The LCD-1 are the latest planar magnetic headphones from Audeze who specializes in premium audio for both professional home and studio environments. When compared to other high-end headphones like the bulky LCD-2, the LCD-1 is notable for the more travel-friendly size and foldable design.
Specifications (Source: Audeze)

Style

Over-ear, open-circumaural

Transducer type

Planar Magnetic

Magnetic structure

Single-sided Fluxor™ magnet array

Phase management

Fazor

Magnet type

Neodymium N50

Diaphragm type

Ultra-thin Uniforce™

Transducer size

90 mm

Maximum power handling

5W RMS

Maximum SPL

>120dB

Frequency response

10Hz - 50KHz

THD

<0.1% @ 100dB

Impedance

16 ohms

Sensitivity

99 dB/1mW (at Drum Reference Point)

Ear Pads

Memory foam, genuine lambskin leather

Weight

250g
To measure playback quality, we connected our LCD-1 to a Dell Precision 5550 mobile workstation and then placed our Earthworks M23R microphone between the two earcups as equidistantly as possible. We would then play a pink noise file at maximum volume with our results shown in the graph below.
Ideally, the pink noise graph should be flat across the board which is close to what the LCD-1 is able to reproduce. Roll-off begins at around 200 Hz to be much earlier than most laptop speakers we test where the 250 Hz or 500 Hz range is more common. The cheaper consumer-oriented Turtle Beach Elite Atlas Aero headphones, for example, are not as loud with more uneven treble and bass reproduction and a later bass roll-off. We understand that the Audeze and Turtle Beach aren't directly comparable, but we also wanted to illustrate the audio quality difference if upgrading from standard gaming headphones to a pair of professional ones.

Unfortunately, having smaller and more portable headphones means sacrificing a bit of comfort. The memory foam ear pads are relatively small and the foldable aspect of the design does little to reduce the overall size. In other words, the headphones take up almost as much space folded when compared to unfolded.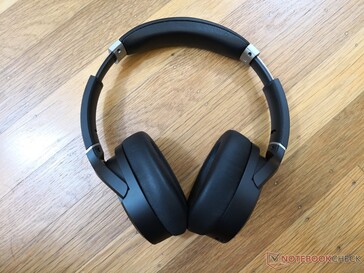 After graduating with a B.S. in environmental hydrodynamics from the University of California, I studied reactor physics to become licensed by the U.S. NRC to operate nuclear reactors. There's a striking level of appreciation you gain for everyday consumer electronics after working with modern nuclear reactivity systems astonishingly powered by computers from the 80s. When I'm not managing day-to-day activities and US review articles on Notebookcheck, you can catch me following the eSports scene and the latest gaming news.