Xiaomi Mi 11 Ultra vs Mi 10 Ultra: Specs bump and camera bump could attract and repel in equal measure for the potentially best smartphone of 2021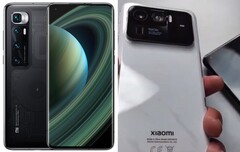 The video posted by YouTuber Tech Buff PH revealing the Xiaomi Mi 11 Ultra has taken many by surprise. Although it's claimed these are prototype models on show, it still seems very early in the year for the Mi 10 Ultra successor to already put in an appearance. The Mi 11 Ultra has big shoes to fill as the Xiaomi Mi 10 Ultra was one of the best phones produced by the Chinese OEM last year and received plenty of praise in our review. It's also one of the top-rated smartphones in terms of camera equipment according to DXOMARK's rankings, currently sitting in third place behind the Huawei Mate 40 smartphones.
Now we can take a look at some of the differences that are expected between the 6.67-inch Xiaomi Mi 10 Ultra and the 6.81-inch Mi 11 Ultra. First and foremost, in regard to the internals, is the processor upgrade. The Snapdragon 865 in the older phone is no slouch but of course this year's model will come with a Snapdragon 888. Processor benchmark comparisons do reveal a generational performance increase but seemingly at the cost of higher power usage. Apparently the Mi 11 Ultra will offer the same RAM + storage configurations, from 128 GB + 8 GB up to 512 GB + 16 GB. So the main change here is the updated SoC.
Battery type and charging appear to be significantly dissimilar between the Mi 10 Ultra and Mi 11 Ultra. While the previous model had a 4,500-mAh Li-Ion cell with fast charging confirmed at 120 W, the upcoming Ultra phone apparently has a 5,000-mAh Li-Po unit and support for 67 W fast charging. When it comes to fast charging, lithium-polymer is a safer option, and this type of battery takes longer to discharge when not in use than a Li-Ion cell. It appears the Xiaomi Mi 11 Ultra will also be a bit more durable than its predecessor, with Gorilla Glass Victus replacing Gorilla Glass 5 on the front. The 2021 Ultra also offers a display with 1440x3200 pixels whereas the 2020 model sported a 1080x2340 resolution.
The specs bump is not gigantic, but it is appealing. However, then there's the Xiaomi Mi 11 Ultra's camera bump. The rear camera unit features a 50 MP main lens (Mi 10 Ultra: 48 MP) and sports the eye-catching secondary "selfie" display, which at the moment seems more like a gimmick than something that would be used with any real meaning. But Xiaomi will have its marketing department working hard day and night to convince us all that a rear-facing secondary display is essential and that we should just ignore the huge camera housing it requires. The Mi 11 Ultra may look like a regular flagship smartphone that has had a smaller phone glued horizontally onto its rear, but it's still going to be a force to be reckoned with in 2021 as long as smartphone buyers can look past the giant camera bump.
Rumored Mi 10 Ultra vs Mi 11 Ultra differences:
Xiaomi Mi 10 Ultra
Xiaomi Mi 11 Ultra (rumored)
SoC
Snapdragon 865
Snapdragon 888
Display
6.67-in, 1080x2340
6.81, 1440x3200
Rear camera
48 MP main lens
50 MP main lens
Battery
Li-Ion 4500-mAh
Li-Po 5000-mAh
Charging
Up to 120 W
Up to 67 W
Colors
Obsidian black, Mercury silver,
Transparent edition
White, black
Bluetooth support
5.1
5.2
Front glass
Gorilla Glass 5
Gorilla Glass Victus
Secondary display
No
Yes
My interest in technology began after I was presented with an Atari 800XL home computer in the mid-1980s. I especially enjoy writing about technological advances, compelling rumors, and intriguing tech-related leaks. I have a degree in International Relations and Strategic Studies and count my family, reading, writing, and travel as the main passions of my life. I have been with Notebookcheck since 2012.