Withings ScanWatch: Incredible clinically validated hybrid smartwatch with medical-grade SpO2 sensor, ECG recording, and 24/7 heart scanning now available from £249.95 (US$330)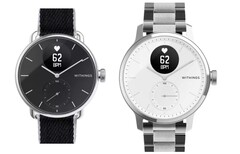 The Withings ScanWatch could lay an early claim to being one of the premium health-focused smartwatches currently on the market – to the point where it could even save the wearer's life. The wearable comes with its own medical-grade electrocardiogram (ECG) that can tell if the user is showing signs of atrial fibrillation (irregular heartbeat – arrhythmia). A-fib is associated with serious conditions such as a stroke, dementia, and cardiac failure, so the ScanWatch's monitors could certainly help prevent a serious medical incident.
Along with the impressive ECG feature, the Withings ScanWatch can also monitor sleeping habits and scan the owner's respiratory system. There's an SpO2 blood oxygen sensor onboard and round-the-clock activity tracking is available, to complement the high-end clinically validated medical features. The hybrid smartwatch even manages to pack in a powerful battery that can last up to 30 days on a single full charge (+20 days available in power-saving mode), which is impressive considering all the health monitoring it would be carrying out during that period. Two hours should be sufficient charging time for a full battery although 80% charge takes around an hour.
Bluetooth connections are supported with the Withings ScanWatch and Android 6.0 or higher devices and iOS 10 or higher devices should be compatible with the smartwatch. There is a PMOLED screen for showing all the health-related data, such as the ECG, which is cleanly integrated into the top half of the analog dial. Withings lists the included sensors in the ScanWatch as: an "exclusive multi-wavelength PPG heart rate/SpO2 sensor", "stainless steel electrodes", and a "high precision MEMS 3-axis accelerometer".
Buyers can select a 38 mm variant of the ScanWatch for £249.95/€279.95 (US$330) while the 42 mm model costs from £279.95/€299.95 (around US$370). It has been reported that the Withings ScanWatch has not been FDA certified for sale in the North American market yet, but it is expected to be made available for that region later this year, and those interested in snapping up the smartwatch upon its US release can sign up for updates. Withings, a French company that was once owned by Nokia, claims its new smartwatch is "the world's most advanced health wearable". Considering it has its own built-in ECG, it's hard to deny the ScanWatch that particular title.
My interest in technology began after I was presented with an Atari 800XL home computer in the mid-1980s. I especially enjoy writing about technological advances, compelling rumors, and intriguing tech-related leaks. I have a degree in International Relations and Strategic Studies and count my family, reading, writing, and travel as the main passions of my life. I have been with Notebookcheck since 2012.