These Asus Armoury Crate power profiles don't make much sense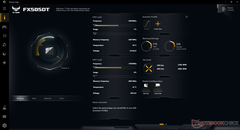 Balanced = High Performance? These counterintuitive Asus power plans are more confusing to use than the default Windows Power Options menu. We go over how all these power plans relate to one another and why some may be superfluous.
Gaming PCs typically come with special pre-installed applications that can control the power plan of the system on top of the usual Windows Power Options menu. Alienware Command Center, MSI Dragon Center, Clevo Control Center, and Asus Armoury Crate are just a few examples of such programs. Armoury Crate, however, is perhaps the most confusing.
The Windows Power Options menu often includes three preset power plans: 'Power Saver', 'Balanced', and 'High Performance'. Armoury Crate includes four: 'Silent', 'Balanced', 'Turbo', and 'Windows'. Overclockable PCs may have a fifth option called 'Manual'. Changing the power plan through Armoury Crate will automatically change the Windows Power Options setting, but the opposite is not true. Thus, it's possible to have the Windows power plan on 'Power Saver' and yet have Armoury Crate set to 'Turbo'.
The confusion becomes worse with how the Asus power plans relate to the Windows power plans. Asus' 'Silent' option will change the Windows power plan to 'Power Saver' while 'Turbo' will change Windows to 'High Performance'. Common sense would dictate that the Asus 'Balanced' option would change the Windows power plan to 'Balanced', but this is not the case - the Windows power plan inexplicably becomes 'High Performance' instead.
Asus' last power plan, 'Windows', is supposed to "apply [the] Windows OS power setting" according to the official Armoury Crate manual here. What it actually does, however, is set the Windows power plan to 'Balanced' and never any other.
To put simply, Asus 'Balanced' is equivalent to Windows 'High Performance' while Asus 'Windows' is equivalent to Windows 'Balanced'.
If you're already accustomed to Armoury Crate, then you probably already know your way around this web of power options to get the system where you want it to perform. But for users new to Asus PCs, these settings are objectively counterintuitive and an unnecessary learning curve.