The ZTE Axon 7 finally receives Android Oreo but it's a mess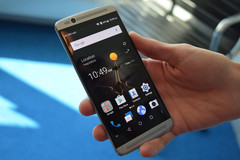 ZTE, a few days ago, finally released Android Oreo for the Axon 7. The update is an Android 8.0 one that also doubles up as the July security patch, both of which are only the first in a long line of things wrong with the OS update.
As far back as December last year, there were already rumors that ZTE had the Android Oreo update for the popular Axon 7 in the works. Ten months after, the company has finally released the update but most would much rather not have anything to do with it.
On the official ZTE forums, the company announced that the Oreo update was finally available. Sadly, it isn't exactly the kind of update users of the device may have envisioned. For one, it's not an OTA update. Users will have to download the update package to their SD cards and install manually. That comes with the caveat that all data is lost. All data, without any exceptions.
The update, as previously touted, also serves as a migration from ZTE's MiFavor skin to its new Stock+ take on the OS. Stock+ is said to be, as the name implies, a nigh-stock version of Android, but with a few added functions. It remains to be seen how it actually is in real life.
The update to Oreo removes Google Daydream compatibility and supposedly doubles up as the July security patch, both of which aren't particularly optimal, truth be said