IFA 2018 | The ZTE Axon 9 Pro is an underwhelming successor to the Axon 7 devices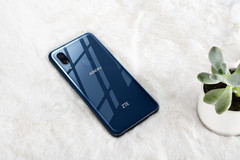 ZTE has unveiled its new Axon 9 Pro at IFA. The device isn't a particularly bad offering by the embattled OEM but certain details on its specifications sheet are sure to leave fans of its predecessor, the Axon 7, underwhelmed.
ZTE has finally launched its new Axon 9 Pro at IFA in Berlin. The device is a direct successor to the immensely popular Axon 7 Pro that was released back in 2016.
The Axon 9 Pro sports a 6.21-inch AMOLED FHD+ display. As established by the teaser a few days ago, it features a huge rectangular notch. Bummer. It's powered by a Snapdragon 845, like all current-gen flagships, and features 6 GB of RAM and 128 GB of storage.
Other notable items on the Axon 9 Pro's specification sheet include a 12 MP (f/1.75, OIS)+ 20 MP (wide angle lens) dual rear camera setup, a 20 MP selfie shooter, a 4000 mAh battery, USB Type-C, Quick Charge 4+ IP68 certification, and wireless charging support.
There is, sadly, no headphone jack—a shocking move considering how audio-centric the Axon 7 devices were. Another much-loved feature on the Axon 7, the front-facing stereo speakers, is also missing here. It still features stereo speakers, though. The Axon 9 Pro carries an MSRP of 649 Euros (US$760). For some perspective, the Axon 7 had a US$400 price tag, which makes this device all the more confusing.
There's also the fact that it will not even be sold in US, but that's about expected considering the battles the company faced in that market this year.
Be warned, pictures galore below.