The Samsung Galaxy A11 is here, following a low-key debut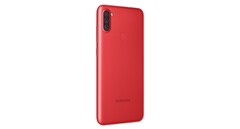 Samsung has launched the Galaxy A11 to little fanfare. This triple-camera device matches well with its recent leaks, having a 6.4-inch HD+ LCD display with a punch-hole for its 8MP selfie camera. It will succeed a phone that started at under US$200 in 2019.
Samsung has announced the successor to its Galaxy A10 via its media website. Despite the unassuming nature of its launch, it may be capable of grabbing attention for itself in the device tier most likely to accomodate it. The A11 is a triple-camera device with a 13MP main shooter, a 5MP ultra-wide lens and a 2MP sensor for macros. This may prove a vast improvement over its predecessor's singular module.
The Galaxy A11 also brings the promised in-display selfie camera, as well as the predicted 4000mAh battery. It will come in SKUs of 2 to 3GB of RAM, either of which will have only 32GB of internal storage. However, the new budget phone can support microSD cards of up to 512GB, at least.
Samsung is markedly reticent as to which rear-panel material the A11 has been designed with, although it is most likely plastic. It does certainly house the phone's fingerprint sensor, however. Similarly, the OEM does not specify which Android version this phone will get - or even which SoC powers the new 2020 Galaxy A-series device, besides mentioning that it goes at 1.8GHz.
This company's possibly second-cheapest phone of 2020's price is not given at present, nor is its release or availability data. However, it is almost sure to be sold in the US, and also possibly in India. Finally, the Galaxy A11 comes in matte shades of black, white, red or blue.