The Realme 1, U1 and 3 Pro get December 2019 security patches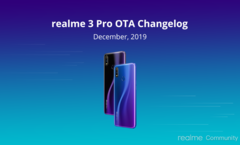 Realme has recently updated its older 1 and U1 models. The new OTA adds a new feature in which the screen flashes for calls. More importantly, it also confers the latest security patch level on the 2 phones. It is also part of the 2019 3 Pro device's latest software update.
Realme has pushed new updates to its 1 and U1 devices. It adds new features that includes "flash for calls", as well as a more convenient dark-mode toggle in these phones' notification shades. Their users can now also click any blank space in 'recents' to return to the launcher in their UI.
These new tweaks are also found in the latest update for the Realme 3 Pro, which also includes the latest Android security patch level. This has also been provided to the 1 and U1, which is a nice little consolation prize, seeing as neither phone will be upgraded to Android 10 by their OEM.
The 3 Pro, on the other hand, is in line for this new OS in the future. However, the new update leaves all of these Realme phones on Pie (Android 9.0) for now. This company has also recently announced that, despite its increased independence from its original parent OPPO, it will continue to license Color OS from this OEM for the foreseeable future.