The KB-G1 Game is Beelink's Kaby Lake G answer to Intel's Hades Canyon NUC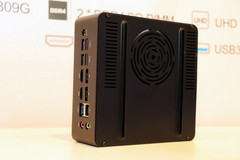 Move over, Hades Canyon. There's a new Kaby Lake G mini PC in town. The Beelink KB-G1 Game is an ultra-SFF desktop sporting Intel's new Core i7-8809G CPU with RX Vega M graphics. Although the KB-G1 Game is slightly thicker then the Hades Canyon NUC, it can support up to four displays at one time.
Mini desktop PCs seem to be growing in popularity, especially as CPUs become more powerful and more efficient. Intel's Hades Canyon NUC is a good example of the power that can be packed into an ultra small form factor PC, but it's not the only show in town anymore. Chinese manufacturer Beelink unveiled a slew of mini PCs earlier today, among them the KB-G1 Game packing the same Intel Core i7-8809G CPU as the Hades Canyon NUC.
The KB-G1 Game looks to be a pretty competent machine in its own right. In addition to the Core i7-8809G (with AMD Radeon RX Vega M graphics), the machine can take up to 32 GB of RAM and two SATA storage drives. There are also plenty of ports, including five USB 3.0 ports, dedicated audio in and audio out jacks, and Gigabit Ethernet. Beelink is advertising the KB-G1 Game as having support for up to four displays via the two DisplayPorts and two HDMI 2.0 ports on the back.
While the KB-G1 Game is in no way a large desktop, it's a fair bit thicker than the Hades Canyon NUC. The NUC looks to be a slight bit longer. The added bulk of the Beelink machine may help in cooling. The device can also be configured with an Intel Core i5-8305G CPU.
There's no word on prices as of yet, but Beelink has said that the KB-G1 is being produced now, which means it should be available for purchase soon.