The Galaxy S9 lineup is having a hard time in South Korea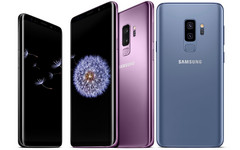 Although the Samsung Galaxy S9 and the dual-camera Galaxy S9+ were well received globally, the latter even being crowned as ruler of the mobile photography kingdom by DxOMark, these two flagships only got a lukewarm response in South Korea. For many retailers, the most recent best seller is the Samsung Galaxy A8, mainly thanks to its dual front cameras and its very good value overall.
With each new flagship generation, Samsung expects more sales, but the reality of the market sometimes proves them wrong. When talking about the Samsung Galaxy S9 and its sibling with a dual camera setup known as the Galaxy S9+, it looks like they failed to meet their makers' expectations in South Korea. However, a recent report published by BusinessKorea also reveals that a more affordable Galaxy handset is a best seller in the area — at least for one local retailer.
The article recently published by the South Korean news outlet mentioned above starts by quoting a local retailer who explained that many consumers think that the Galaxy S9 family does not bring noticeable changes over the last year's Galaxy S8 flagships.
However, another retailer revealed the following: "Our recent best seller is the Galaxy A8, which is inexpensive yet as high-performance as Galaxy S phones. The Galaxy A8, which comes with dual front cameras, is very popular with teenagers and those in their 20s taking a lot of selfies." In addition to the above, he also added that many customers choose affordable older handsets these days due to the lack of solid progress in terms of performance nowadays.
At last, we should also keep in mind that the reduction of carrier subsidies heavily impacted the sales of expensive handsets. In Samsung's case, a consumer who switches from a carrier to another can get the Galaxy S9 for the equivalent of about US$430, but the Galaxy S8 was available last year for a mere US$187.
These being said, remains to see if the sales figures after a month or two will look better or not, so stay tuned.
Quality journalism is made possible by advertising. We show the least amount of ads whenever possible. We intentionally show more ads when an adblocker is used. Please, switch off ad blockers.