The Exynos 7 9610 processor coming later this year with deep learning and faster image processing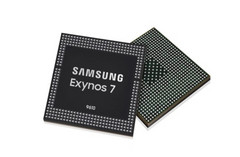 The new Exynos 7 9610 SoC consists of four Cortex-A73 cores, four Cortex-A53 cores, and a Mali-G72 GPU that supports 480 fps full HD recording and video encoding/decoding up to 4K 120 fps. According to Samsung, this new chip for mobile devices will enter the mass production stage in the second half of this year.
Earlier today, Samsung introduced the new Exynos 7 9610 processor. This chip is built using Samsung's 10 nm FinFET process and brings a set of premium features that mainly consists of an AI-driven image processing engine for improved mobile photography capabilities, as well as slow-motion video recording at 480 fps.
According to Ben Hur, vice president of System LSI marketing at Samsung Electronics, the Exynos 7 9610 "sets a new performance standard for high-end devices with its deep learning vision-image processing solution and slow-motion video capabilities that change the way we engage with our mobile devices."
The Exynos 7 9610 brings together the following hardware parts: four Cortex-A73 cores at 2.3 GHz, four Cortex-A53 cores clocked at 1.6 GHz, and a second-generation Bifrost-based ARM Mali-G72 GPU. Thanks to the improved image signal processor, this chip can encode 480 fps slow-motion video at a resolution of 1,920 x 1,080 pixels. Even more, the Exynos 7 9610 can easily decode and encode up to 4K 120 fps video content.
In addition to the above, the new SoC by Samsung also comes with support for 4G LTE with 600 Mbps download and 150 Mbps upload, FM radio, Bluetooth 5.0, 2x2 MIMO WiFi, as well as GPS with GLONASS, BeiDou, and Galileo.
Mass production of the Exynos 7 9610 is scheduled to kick off in the second half of 2018, so more information about the first devices to use it should become available in the coming months.