Specifications for Samsung's 8nm Exynos 9710 SoC leaked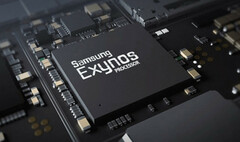 The supposed specifications for a Samsung Exynos 9710 SoC have been leaked. According to the new information, the chip will be manufactured on an 8nm process, just like the high-end Exynos 9820 found in the international variants of the Samsung Galaxy S10. It's likely this potential successor to 2018's Exynos 9610 SoC will be used in midrange smartphones.
Noted leaker Ice universe has been sharing some details about a Samsung Exynos 9710 chip on the Chinese social network Weibo. According to the leak, the upcoming SoC will be based on an 8nm manufacturing technology, which should at least help make it more energy-efficient than last year's Exynos 9610.
In terms of processing cores, the Samsung Exynos 9710 will allegedly have eight in all, made up of four Cortex-A76 (2.1 GHz) cores and four Cortex-A55 (1.7 GHz) cores. Its 10nm predecessor is also an octa-core chip, but it features four Cortex-A73 cores and four Cortex-A53 cores.
The final detail offered in the leak was in regard to the GPU component of the rumored SoC: A Mali-G76 MP8 with a base clock rate of 650 MHz is mentioned. The Samsung Exynos 9820 also uses a Mali-G76 GPU but utilizes the MP12 model, so it has 12 cores for graphics processing in comparison to the eight cores of the purported Exynos 9710's GPU.